ISLAMABAD, Pakistan (CNN) -- A missile fired from a suspected U.S. pilotless drone killed at least 13 people and wounded five others Friday in a village in northwest Pakistan near the Afghan border, according to Pakistani intelligence sources.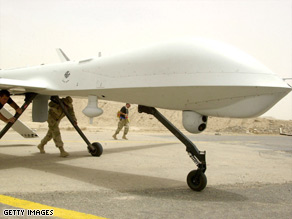 Small, quiet and deadly drones are operated remotely by pilots in the United States.
The missile strike happened in a region of Pakistan that is rife with Islamic extremism. Previous missile strikes there have targeted members of al Qaeda and suspected Taliban militants.
Two missiles hit the North Waziristan village of Tola Khel, near the main town of Miranshah, early Friday, according to Allah Zaman, a security official in Miranshah.
Gul Zaman Wazir, a local resident, told the Associated Press by phone that drone aircraft were heard before the attack.
"They kept on circling in the sky for about two hours," Wazir said.

Watch as attacks fuel tensions »
"Then we heard a big bang." Wazir said he saw at least 12 bodies at a house that was hit, including three children. A large number of militants later sealed off the area, he said.
A missile attack on the compound of a key Taliban commander in northwestern Pakistan Monday killed 25 people, including the newly appointed al Qaeda chief in Pakistan, Abu Haris, a guard who was also wounded in the attack told CNN Tuesday.
While Pakistani sources would not specifically pin Friday's attack on the United States, no other country operating in the region is known to have the capability to launch missiles from the small, quiet and deadly drones, which are operated remotely by pilots in the United States.
Don't Miss
The Pentagon has dramatically increased its squadrons of remote-controlled attack aircraft called "unmanned aerial vehicles" -- or UAVs, for short.
This is at least the seventh such attack since July 28, compared to only three in all of 2007.
Pakistan's government and military have issued stiff protests to Washington over the strikes and especially a raid by ground troops in the South Waziristan region last week.
Following Friday's attack, Pakistan's main opposition party also warned Friday that the country could withdraw from the U.S. war on terror over the strikes.
"We need at this time to make it clear to foreign countries that Pakistan will not tolerate such actions," said Ahsan Iqbal, a leader of former Prime Minister Nawaz Sharif's Pakistan MuslPim League-N party, according to AP.
"If it continues, then Pakistan can consider pulling out completely from this war on terror."
Analysts said protests by Sharif, one of Pakistan's most popular politicians, could make it hard for the country's new President Asif Ali Zardari to maintain the close alliance with Washington forged by his predecessor Pervez Musharraf.
Friday's attack comes one day after a senior American intelligence official said President George W. Bush authorized U.S. special forces to conduct ground assaults inside Pakistan without seeking Islamabad's permission first.
The United States is concerned that Taliban and al Qaeda forces operate with relative impunity in tribal areas along Pakistan's border with Afghanistan, and use those areas as a staging ground to attack U.S. forces and their allies inside Afghanistan.
E-mail to a friend

CNN's Nic Robertson, Zein Basravi and Peter Bergen contributed to this report.
All About Pakistan • Afghanistan