BANGKOK, Thailand (CNN) -- Thailand's Supreme Court on Tuesday issued an arrest warrant for deposed Thai leader Thaksin Shinawatra who fled the country last month just as he was to appear in a corruption case.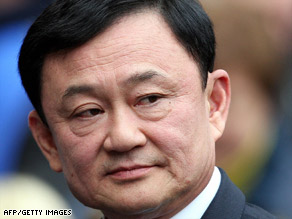 Thaksin Shinawatra is accused of bending government policy to benefit his family's business.
The court wants Thaksin arrested for his alleged role in a bank loan case, according to the Thai News Agency, which is owned by a public company controlled by the government.
The National Corruption Counter Commission sued Thaksin for conflict of interest and abuse of authority for approving a 4 billion baht ($115 million) low-interest loan to Myanmar to develop its telecommunications system.
Thaksin allegedly approved the deal in exchange for the Myanmar government buying equipment from a company where his family was the majority shareholder, the news agency said.
The court said it sent a formal summons to Thaksin to appear for a hearing. It issued the arrest warrant after he did not do so, TNA reported.
The loan case is one of several corruption cases against Thaksin and his family that are winding their way through the legal systems.
The billionaire is accused of abusing the country's system of checks and balances and bending government policy to benefit his family's business.
He and his wife face charges stemming from a Bangkok land deal and a stock concealment plan. Thaksin also faces separate charges of concealing assets.
The former prime minister has consistently denied that he or his family was involved in any wrongdoing.
Don't Miss
Last month, the Supreme Court issued another warrant for Thaksin and his wife after they skipped a court appearance and fled to the United Kingdom rather than testify in a case about the unlawful purchase of real estate.
In the real-estate case, Pojaman is accused of using her husband's political influence to buy undeveloped land from a government agency for about a third of its estimated value.
In addition, Pojaman was found guilty in July of evading millions of dollars in taxes and sentenced to three years in prison. She was out on bail at the time of the couple's flight.
Thaksin is a telecommunications tycoon who until recently owned English Premier League side Manchester City. His party won two landslide victories before he was deposed in a bloodless military coup in September 2006 after massive anti-government street protests.
He returned to Thailand after his allies -- the People Power Party -- won nearly half the seats in the lower house in December's parliamentary elections and formed the ruling coalition.
Samak Sundaravej assumed the prime minister's position. Opposition party supporters accused him of being a Thaksin puppet.
In recent weeks, the country has seen daily demonstrations from opposition party supporters who want PPP leaders purged from the Cabinet.
The protesters -- led by the People's Alliance for Democracy -- wanted Samak ousted. They contended Samak was trying to amend the constitution so Thaksin does not have to face charges.
Samak's government placed the capital city, Bangkok, under a state of emergency on September 2 after clashes between pro- and anti-PPP supporters turned violent and left one dead.
Last week, Thailand's Constitutional Court stripped Samak of his position, ruling that he had violated the constitution by appearing as a paid guest on a television cooking show.
Immediately afterward, the PPP tried to re-nominate him for the position. But it was unable to convince its five coalition partners to go along with the choice.
On Monday, the PPP nominated Thaksin's brother-in-law for the post, further inflaming opposition party supporters. The parliamentary vote is scheduled for Wednesday.
Somchai Wongsawat is married to Thaksin's sister and had been acting as prime minister following Samak's ouster.
He lifted the emergency rule over the weekend, saying the order had adversely affected the country's economy -- particularly, tourism.
But the PPP's decision to pick someone related to Thaksin means the protests are unlikely to wane.
PAD party leader Sondhi Limthongkul has said demonstrators will not accept a prime minister nominee from the PPP.
Even within the PPP, several lawmakers called on the executive board to reconsider Somchai's pick.
E-mail to a friend

CNN's Kocha Olarn contributed to this report.
All About Thailand • Thai Politics • Protests and Demonstrations • Samak Sundaravej • Thaksin Shinawatra