ISLAMABAD, Pakistan (CNN) -- A missile attack Wednesday night on the Pakistani village of Dahgerat near the Afghan border killed seven residents and wounded three, a local intelligence official and eyewitnesses told CNN.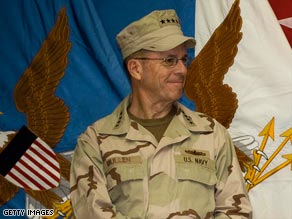 Adm. Michael Mullen reiterated the U.S. commitment to respect Pakistan's sovereignty.
Four missiles were fired from unmanned drones into the South Waziristan region of Pakistan, the witnesses said.
The United States maintains that Taliban and al Qaeda forces operate with relative impunity in tribal areas along Pakistan's border with Afghanistan and use those areas as a staging ground to attack U.S. forces and their allies inside Afghanistan.
The U.S. is the only country operating in the region known to have the capability to launch missiles from the small, quiet and deadly drones, which are operated remotely.
The attack came just hours after the United States' top military officer, Adm. Michael Mullen, concluded talks with top Pakistani officials amid tensions between the two countries over the battle against terrorism.
Three houses were destroyed in the attacks, said eyewitness Mohammed Gulab Mahsud. Two drones flew over the homes for 40 minutes before unleashing two missiles each, Mahsud told CNN.
The people in the homes were renting it and were believed to be foreigners -- Arabs and Uzbeks, Mahsud said.
During Mullen's brief visit, he met with Pakistan's newly elected prime minister, Yousaf Raza Gilani, and Pakistan's military chief, Gen. Parvez Kayani.
The U.S. Embassy in Pakistan described the talks as "extremely frank, positive and constructive."
Mullen, the chairman of the Joint Chiefs of Staff, reiterated the U.S. commitment to respect Pakistan's sovereignty and to develop further U.S.-Pakistani cooperation and coordination, the embassy said in a news release.
Relations between the United States and Pakistan have been tense lately.
The U.S. military sent ground forces into Pakistan's tribal regions earlier this month without consulting Islamabad.
There also have been media reports that several months ago, President Bush authorized U.S. special forces to carry out ground assaults inside Pakistani territory without first seeking permission.
Don't Miss
The Pakistani government responded harshly to the incursion, and last week Kayani announced that no foreign forces will be allowed to conduct operations inside Pakistan in light of the "reckless" U.S. military ground operation.
Kayani said Pakistan's "territorial integrity ... will be defended at all cost and no external force is allowed to conduct operations ... inside Pakistan."
There was no immediate response from Pakistani officials to Wednesday's missile attacks.
This was Mullen's fifth visit to Pakistan since becoming chairman of the U.S. Joint Chiefs in October, but it was his first visit with Gilani, the new Pakistani prime minister.
Kayani replaced former Pakistani President Pervez Musharraf as military chief last year.
Musharraf, who swept into power in 1999 in a bloodless coup, resigned as president last month ahead of a possible impeachment.
He had been a key ally of the West in the fight on terror, receiving billions in military aid from the United States and launching attacks on militant groups near the country's border with Afghanistan.
Mullen's visit came after he stopped in Iraq to take part in Tuesday's handover of control of U.S. forces from Gen. David Petraeus to Gen. Ray Odierno.
E-mail to a friend

CNN's Zein Basravi and Jamie McIntyre in Washington contributed to this report.
All About Pakistan • George W. Bush