BANGKOK, Thailand (CNN) -- Legislators in Thailand elected the brother-in-law of a fugitive former leader as the country's prime minister Wednesday.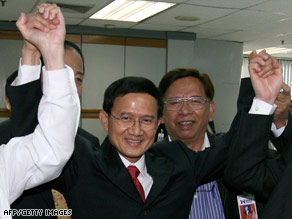 Somchai Wongsawat, center, after being nominated for the post of prime minister on Monday.
The choice is unlikely to end weeks of political tension that have gripped the nation, with protesters occupying key government buildings and sympathetic rail unions halting train service.
The Thai House of Representatives chose Somchai Wongsawat as prime minister Wednesday by a vote of 298-163. He is a deputy leader of the People Power Party and is the brother-in-law of former Prime Minister Thaksin Shinawatra, who was ousted in a coup in 2006 and fled the country this year just as he was to appear in court in a corruption case.
Protesters with the anti-government People's Alliance for Democracy have occupied the prime minister's house and other government offices since August 26. They accuse the PPP of being a proxy for Thaksin.
The protesters have warned "that they would not accept any member of the ruling People Power Party" as prime minister, according to the Thai News Agency, which is owned by a public company controlled by the government.
Protesters said Somchai's predecessor, Samak Sundaravej, sought to amend the constitution so Thaksin does not have to face charges.

Watch why Somchai's family connections may prove problematic »
Don't Miss
A constitutional court removed Samak from power last week. It concluded that he violated the constitution by appearing as a paid guest on a television cooking show.
On Sunday, nearly three weeks into the protests, Somchai lifted a state of emergency that had applied to the capital city, Bangkok, since September 2. He acted as head of a caretaker government, saying the order had adversely affected the country's economy -- particularly, tourism.
Meanwhile, Thailand's Supreme Court issued an arrest warrant Tuesday for Thaksin, who is in Great Britain.
The court wants Thaksin arrested for his alleged role in a bank loan case, the Thai News Agency said.
The National Corruption Counter Commission sued Thaksin for conflict of interest and abuse of authority for approving a 4 billion baht ($115 million) low-interest loan to Myanmar to develop its telecommunications system.
Thaksin allegedly approved the deal in exchange for the Myanmar government buying equipment from a company where his family was the majority shareholder, the news agency said.
The loan case is one of several corruption cases against Thaksin and his family that are winding their way through the legal systems.
The billionaire is accused of abusing the country's system of checks and balances and bending government policy to benefit his family's business, but the former prime minister has denied wrongdoing.
E-mail to a friend

CNN's Dan Rivers contributed to this story.
All About Thailand • Thai Politics • Protests and Demonstrations • Samak Sundaravej • Thaksin Shinawatra