(CNN) -- Venezuelan President Hugo Chavez arrived in Beijing Tuesday to meet with top Chinese officials and to discuss the possibility of buying weapons, state-run media reported.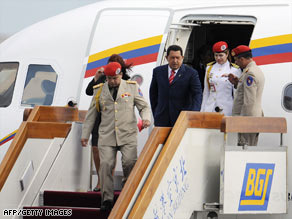 Venezuelan President Hugo Chavez, center, arrives in Beijing at the start of an official visit on Tuesday.
Chavez is in China for meetings with President Hu Jintao, along with other "relevant state leaders," according to the Xinhua news agency.
Their discussions are expected to include "bilateral relations and issues of mutual concern," Xinhua reported. Venezuela is reportedly working on a deal to purchase Chinese K-8 military training planes.
The nations are also expected to sign cooperation agreements in the areas of "justice, sports, and quality supervision and inspection."
Two months ago, Chavez made a similar visit to Russia, meeting with Prime Minister Vladimir Putin and President Dmitry Medvedev and is scheduled to be there again this week.
During the July visit, the Venezuelan leader negotiated for the purchase of Russian military equipment.
Since then, Chavez has bragged that it has Russia as an ally. Two Russian strategic bombers have been deployed to Venezuela and three Russian warships have sailed for Venezuela for joint maneuvers with the leftist government.
The moves come amid increasing tensions with the United States over the Russia-Georgia conflict last month. The intensifying contacts with Venezuela appear to be a response to the U.S. dispatch of warships to the Black Sea delivering aid to Georgia, which angered the Kremlin.
E-mail to a friend

All About Hu Jintao • Hugo Chavez • Venezuela • China • Vladimir Putin • Dmitry Medvedev • Russia