ISLAMABAD, Pakistan (CNN) -- A suicide bomber killed a schoolgirl in southwest Pakistan and wounded about a dozen other people, police said on Wednesday.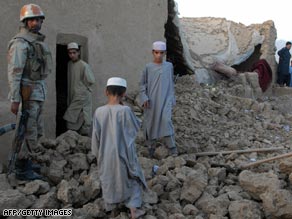 Pakistani soldier stands guard at site of destroyed Islamic school after a bomb blast near Quetta on Friday.
The attack took place in Quetta, the capital of Balochistan province near the Afghan border.
Khalid Masood, the superintendent of police in Quetta, said the man targeted a vehicle belonging to the Frontier Corps, a paramilitary force which uses recruits from Pakistan's tribal areas and is overseen by Pakistani army officers.
The blast wounded about 12 to 13 people. Among them were some Frontier Corps soldiers and a group of schoolgirls who were returning home, he said.
Balochistan is a province that is rich in natural resources. Militants there have for years complained that the central government has paid little attention to them and their economic needs. They have been fighting Pakistani military forces for self-rule.
More recently, the province has seen an influx of Afghan refugees. And the Afghan government believes that key Taliban leaders may be hiding among them.
On Friday, a blast at an Islamic religious school there killed three students and wounded six others. That explosion occurred at a village about 15 km (9 miles) from Quetta.
Pakistan has said the militants in Balochistan do not have links to the Islamic hard-liners who have launched assaults in other parts of the country, including the bombing of the Marriott hotel in Islamabad on Saturday that killed dozens.

Watch as bomb destroys Marriott hotel »
Soon after the ruling Pakistan People's Party swept into power in February elections, it called for an end to military operations in Balochistan, the largest of Pakistan's four provinces.
It said it would work towards giving "maximum provincial autonomy" to the area.
E-mail to a friend

CNN's Zein Basravi contributed to this report.
All About Pakistan • The Taliban