(CNN) -- An Australian airliner suddenly changed altitude Tuesday, injuring about 40 people, including some who suffered fractures and cuts, officials said.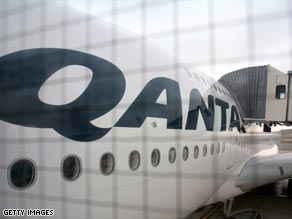 The Australian carrier has been plagued by a series of other safety issues recently.
The Qantas Airbus A330-300, with 303 passengers and 10 crew members, was flying from Singapore to Perth when the incident occurred, the airline said.
The flight was diverted to the town of Exmouth, in western Australia, where it landed safely at Learmonth Airport, Qantas said.
Exmouth is about 782 miles (1,260 km) from Perth.
Qantas did not say how many people were hurt, but added that the injuries included fractures and lacerations.

Watch more about the incident »
Sgt. Greg Lambert of the West Australian Police said about 40 people on board were injured.
Authorities could not immediately say what caused the altitude change.
In July, a Qantas airliner was forced to make an emergency landing in the Philippines after an exploding oxygen tank ripped a hole in the jumbo jet in mid-flight.
Since then, the airline has been plagued by a series of other safety issues. One airplane's landing gear failed to retract, for example, while another developed a hydraulic fuel leak.
E-mail to a friend

All About Australia