By CNN's Saeed Ahmed
(CNN) -- Residents in the Indian Ocean nation of the Maldives went to the polls Wednesday to cast ballots in the first multi-party elections in the country's history -- and to decide the fate of Asia's longest-serving leader.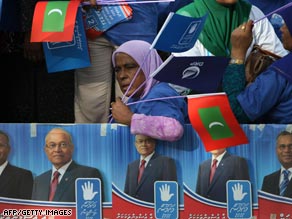 Supporters of Maldivian President Maumoon Abdul Gayoom rally in the islands' capital, Male.
A heavy downpour dampened turnout in some parts of the capital city, Male. With the exception of sporadic complaints of irregularities, though, the voting proceeded smoothly under the watchful eyes of international observers.
The election is a referendum on President Maumoon Abdul Gayoom, who came to power in 1978 and has for 30 years ruled the Maldives, an archipelago of almost 1,200 coral islands located south-southwest of India. He's won the six previous elections as the only candidate on the ballot.
Many Maldivians consider the 71-year-old Gayoom a hero who has transformed a fishing culture into a tourist nation whose white sandy beaches lure well-heeled Western tourists.
Gayoom's critics contend that the president has ruled with an iron fist, crushing dissent, amassing wealth and stacking his administration with friends and relatives.
"Those are the two sides," said Ibrahim Wahyeed, a reporter with the independent newspaper, Haama Daily. "His supporters say that in his 30 years, President Gayoom has done many good things. And they want to take those things to much higher levels.
"His opponents are saying, 30 years is more than enough. Maldives and Singapore became independent at the same time, but Singapore is at a much higher level than Maldives."
A crowded field of five other candidates are challenging Gayoom for the presidency. More than 200,000 Maldivians out of a population of 386,000 are registered to vote, according to the election commission.
The commission is expected to announce results within a day. If no one garners 50 percent of the votes, a run-off election will be held within 10 days.
"We're very confident it's going to be a first-round victory," said Gayoom's spokesman, Mohamed Shareef. "He has taken the country from near abject poverty, and during his presidency, we have achieved a lot economically, socially, and more recently, politically."
Gayoom is seeking a seventh five-year term, saying that he will need a few more years to see through the reforms he has put in place.
"He feels that one final term in office is needed to complete his legacy to the people," Shareef said.
But critics say Gayoom instituted democratic reforms -- and legalized political parties -- only after violent protests in 2004 and 2005.
His legacy, his opponents argue, is a country grappling with unemployment, crime, drugs and corruption.
In January, a man tried to stab Gayoom with a knife wrapped in a national flag. A teenage boy jumped in and prevented the attack.
And shortly before election day, an auditors' report said that millions of dollars were improperly accounted for by Gayoom's government. He disputed the findings.
"Since 1978, what has really changed?" asked the group MaldivesVotes, a coalition of writers and artists who have criticized Gayoom.
"Do all Maldivian children really go to bed properly fed as Gayoom has suggested...?" the group said on its Web site. "Have we not lived in fear for the last 30 years? Isn't his power boosted by tourism that enriched his cronies as well as himself?"
It then added: "This year is our chance to make a change."
E-mail to a friend

All About Maldives