ISLAMABAD, Pakistan (CNN) -- A remote-controlled bomb detonated Monday near the vehicle of a secular Pakistani political leader, who was injured along with four others, police said.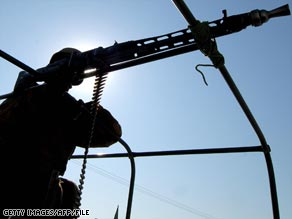 The Pakistan army on patrol in North West Frontier Province.
It is the latest in a string of attacks against lawmakers and government officials, and the second this month aimed at the Awami National Party.
The attack apparently targeted Shamin Khan -- a member of the Pashtun secularist ANP -- at 6:30 p.m. (1230 GMT) in Pakistan's North West Frontier Province, police said. The extent of his injuries was not clear.
Khan -- who holds a seat in the provincial assembly in North West Frontier Province -- was the target of the attack, ANP spokesman Zahid Hussain told CNN.
The ANP calls for a tougher stance against Islamist extremists in Pakistan's tribal regions.
A suicide attacker detonated his explosives outside the home of ANP leader Asfandyar Wali Khan on October 2 in North West Frontier Province, according to the Interior Ministry and local police.
Wali Khan, a national assembly senator, survived that attack and vowed not to back down from militants.
Other recent attacks across Pakistan also have targeted lawmakers and government officials.
A suicide bomb was detonated October 6 at the home of a lawmaker in Pakistan's eastern Punjab province, killing at least 10 people and wounding more than 30, a police spokesman said.
The target of that attack, national assembly member Rashid Akbar Nawani, sustained injuries to his legs, according to a spokesman for his party. Nawani is a senior member of former Pakistani Prime Minister Nawaz Sharif's Pakistan Muslim League-N party (PML-N).
The blast occurred during an open forum between Nawani and his constituents, at which people go to their provincial leaders to convey problems, a party spokesman said.
Pakistani President Asif Ali Zardari condemned the October 6 attack and said such heinous acts will not deter the government's resolve to fight terrorism, according to Pakistan's state-run news agency.
On October 5, rockets were fired at the home of the chief minister of North West Frontier Province, according to Pakistani media reports. No one was injured in that attack and the chief minister, Amir Haider Khan Hoti, was not at his home at the time.
E-mail to a friend

All About Pakistan • Asif Ali Zardari