KABUL, Afghanistan (CNN) -- U.S. military success in Iraq means a tougher fight for U.S.-led coalition forces in Afghanistan, the Afghan defense minister said.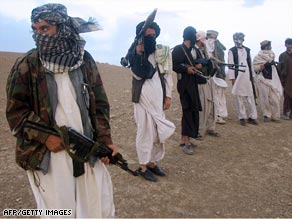 Militants regularly traverse the porous border between Pakistan and Afghanistan.
"A lot of terrorists, (who) were busy in other places, have all been diverted to Afghanistan," Gen. Abdul Rahim Wardak, Afghanistan's defense minister, said Tuesday.
"The success of the coalition forces in Iraq, and also some other issues in some neighboring countries, have made it possible that there is a major increase in the foreign fighters."
The commander for NATO forces in Afghanistan said this month that more military presence is "needed as quickly as possible."
The additional military capability was necessary because of "an increased number of (foreign) fighters" coming into Afghanistan from Pakistan's lawless tribal regions," Gen. David McKiernan said at the Pentagon on October 1.

Watch the challenges on the ground in Afghanistan »
"It's a significant increase from what we saw this time last year," he said.
"We're facing a tougher threat right now, especially in the east where we have the U.S. division," he said. "And so the additional military capability (is) needed as quickly as possible."
Don't Miss
Wardak agreed with McKiernan's assessment.
"There is no doubt that they are (better) equipped than before. They are well trained. They are more sophisticated and also their coordination is much better than before," he said.
"And so, also, there is no doubt that they have suffered heavy casualties this year."
McKiernan, who took command of NATO's International Security Assistance Force (ISAF) earlier this year, said his request of an additional 3,500 people to train the Afghan army and police was still under review.
Also under review are Pakistan's military operations against Taliban and al Qaeda fighters inside its borders. The fighters regularly cross the porous border with Afghanistan.
It was "probably too early" to see if Pakistan's military clampdown in its tribal areas has had any effect on stemming militant activity in Afghanistan, McKiernan said
E-mail to a friend

All About War and Conflict • Afghanistan • The Taliban