NEW DELHI, India (CNN) -- Indian officials have announced a seven-phase election plan to elect a new state government in the part of Kashmir under New Delhi's control.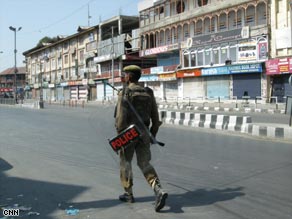 Indian Kashmir has been under tight control for several months following Hindu-Muslim riots.
In its announcement Sunday, the election commission said state elections in Kashmir will begin on November 17, and continue through December 24 under tight security.
The Indian-controlled Kashmir has been under federal rule since July when a coalition, led by the Congress Party, resigned.
The coalition had announced a plan to donate land to a Hindu shrine. The decision led to massive protests by Muslims and prompted the government in the Muslim-majority region to reverse it.
Don't Miss
Then, Hindus took to the streets demanding it be restored. Violence broke out, with more than 40 people killed and hundreds wounded in police-protester clashes.
The commission also said it would ban the use of religious institutions during the campaign.
"There shall be no appeal to caste or communal feelings for securing votes," it said. "Mosques, churches, temples or other places of worship shall not be used as forums for election propaganda."
The summer protests over the land transfer morphed into rallies opposing Indian rule in Kashmir. Police have placed an around-the-clock curfew on the Himalayan region several times since then.
Kashmir has been a source of bitter dispute between neighbors India and Pakistan since the British left the subcontinent and partitioned the region into two nations in 1947.
Under terms that the two countries agreed to at the time, Kashmir's rulers could either opt to merge with India or Pakistan or remain independent.
Kashmir's ruler, Hari Singh, sided with India, where most people are Hindu. That caused controversy among Kashmir's Muslim majority. Many of them wanted to align with Pakistan, where Islam is the dominant religion.
Since then, the Kashmir issue has been the leading cause of conflict and two wars between India and Pakistan.
For the past 18 years, Kashmir has been wracked by a bloody separatist campaign. Authorities say up to 43,000 people have died, but some human rights groups and non-governmental organizations put the death toll at twice that number.
E-mail to a friend

CNN's Harmeet Shah Singh contributed to this report