From CNN's Harmeet Singh
NEW DELHI, India (CNN) -- At least 15 people were killed and 15 were hurt Tuesday when a bomb ripped through a village in India's northeastern state of Manipur, the authorities said.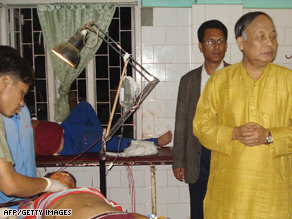 Chief Minister of Manipur Okram Ibobi Singh visits victims of Tuesday's bombings.
The explosives were planted on two-wheeled vehicles when they exploded near a police training complex in the village of Pandol Kabui, outside of Manipur's state capital Imphal, Y. Joykumar, director-general of police, told CNN.
The bomb detonated at 7:20 p.m. (2:20 p.m. GMT), police said.
"The scene is ghastly. Limbs and other body parts are strewn all over the place," local television reporter Sarat Chandra told The Associated Press.
The blast occurred two days after another explosion on a highway about half a kilometer from the state chief minister's residence.
Authorities are investigating the involvement of insurgent groups in Tuesday's blast.
Dozens of militant separatist groups are active in India's northeast, an isolated region wedged between Bangladesh, Bhutan, China and Myanmar with only a thin corridor connecting it to the rest of India.
Some of the groups claim the central government in New Delhi, 1,000 miles to the west, exploits the northeast's natural resources while doing little for the region's indigenous population, most of whom are ethnically closer to Burma and China than to the rest of India.
More than 10,000 people have died in separatist violence over the past decade in the region.
E-mail to a friend

All About India