By Jaime FlorCruz
CNN Beijing Bureau Chief and correspondent
BEIJING, China (CNN) -- I had already called it a day last Friday night when my mobile phone beeped with text message.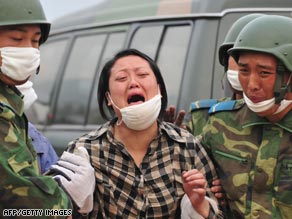 A woman grieves over the loss of a loved one in Yinghua last May following the deadly earthquake.
It came from the Information Department of China's Ministry of Foreign Affairs (MOFA) inviting Beijing-based journalists to a press briefing. This one is unusual because it's nearly 11 p.m.! What breaking news could be so urgent and important?
I was keen to know so I rushed to MOFA's briefing hall.
Fifteen minutes before midnight, MOFA spokesman Liu Jianchao walked up to the podium and announced China's new decree that eases restrictions on foreign journalists. The decree, signed by Premier Wen Jiabao, says that foreign reporters would not be required to get government permission to interview Chinese citizens or travel within China.
"This is not only a big step forward for China in opening up to the outside world," Liu said, waving a printout of the regulations. "It's also a big step for further facilitating reporting by foreign journalists."
Some restrictions remain: sensitive areas such as Tibet and military installations will still be off limits without official permission.
The new rules, which took immediate effect, make permanent a set of regulations enacted in January 2007, just for the Olympics, which lifted many restrictions on foreign journalists. Those temporary rules officially expired midnight last Friday, and many journalists wondered whether the Olympic rules would be extended.

Watch people discuss future of China after the Olympics »
China-based journalists had lobbied for years to rescind the old rules, which were formalized in 1990, one year after the Tiananmen crackdown. For years under those rules, reporters were permitted nothing more than carefully guided visits and stilted interviews. Foreign reporters welcomed the new rules.
Don't Miss
"If properly implemented, we believe this will mark a step forward in the opening of China's media environment," said Jonathan Watts, president of the 300-member Foreign Correspondents' Club of China (FCCC). "We urge the government to ensure that police and local officials respect the spirit as well as the letter of the new rules."
In fact, implementation has been the big issue. In the first year after the Olympic regulations were introduced, the FCCC recorded more than 180 cases of interference, including detentions of journalists and reports of harassment of sources. At least 30 such incidents were reported during the Games. In some cases, problems were resolved after Foreign Ministry handlers in Beijing interceded. Quite often, however, local officials and police simply ignored the new regulations.
There is still disconnect between what Beijing officials say and what local officials in the small towns and cities do. For foreign journalists, one of the biggest concerns is ensuring the safety and well-being of our Chinese sources and Chinese assistants, who remain vulnerable to official harassments and intimidation.
MOFA Spokesman Liu Jianchao acknowledges the problem and says officials would continue explaining the regulations to local bureaucrats and police through continued training and workshops. "I am confident that this new regulation will be implemented faithfully and fully," he said. "Still this will be a process and we need your constructive cooperation to implement the regulation well."
Beijing officials in charge of handling the international media are becoming more sophisticated in their efforts to shape China's image overseas. Many of them now seem to have a better understanding of how and why journalists work. They have lifted restrictions on where journalists live and set up offices. Most significantly, it's been eight years since China last expelled a China-based foreign reporter.
For reporters in most other capitals in the world, these changes may not seem like a big deal. But for us in China, they are significant gains. China has been considered a "hardship post," but it is in fact a privilege to be able to report on this huge nation in a state of flux -- from a ring-side seat -- and do so without having to wear a helmet and a flak jacket.
It should be added that these new rules do not apply to Chinese journalists. Article 35 of China's constitution guarantees press freedom. Yet many Chinese journalists have been detained or imprisoned because of their reporting.
In its most recent ranking of press freedom by countries, Reporters Without Borders ranked China 167th, just behind Iran.

Learn how China monitors and filters the Internet »
Why is it important that we are able to report on China freely?
Because China is inherently important. Whatever happens in China affects the rest of the world and vice versa. Recent events illustrate this point:
The Summer Olympics and the excitement, controversy and money it generated;
The milk scandal and its worrisome repercussions in and outside China;
China's first space walk last month and its geopolitical, military, science and commercial implications;
And most recently, the global financial crisis underscoring China's emergence on the global stage as a vital economic power and its role as a foreign investment destination, exporter, importer and a major holder of U.S. debt.

Watch whether China can help bolster the global economy »
China is in a constant state of flux. Why is it in China's interest to open up, I asked the MOFA spokesman Friday night. "Because we need to have better understanding, mutual understanding with the world." Liu Jianchao replied. "An important part of this is the press."
E-mail to a friend

All About China • Human Rights Policy • Media