KABUL, Afghanistan (CNN) -- Afghan authorities have arrested 13 people, including employees of DHL courier service, after a shooting killed two foreign nationals and a security guard in Kabul Saturday, an Interior Ministry official said.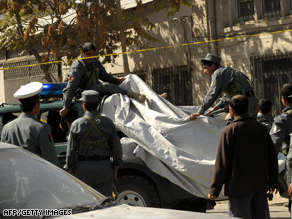 Afghan policemen move the victims' bodies on to a vehicle at the site of the shoot-out in Kabul.
Ministry spokesman Zemeri Bashary said employees and guards at DHL's Kabul office are among those arrested.
It is unclear exactly how the Afghan security guard died, but a British man and South African man, both DHL employees, were killed after being caught in the crossfire of a gunfight outside the DHL office, a Kabul police official said.
The DHL office is located near the presidential palace in the capital.
DHL has spoken to the men's relatives, according to the British Foreign Office.
"Consular assistance is being provided and further details have yet to be established," the office said.
The South African Department of Foreign Affairs said it is also assisting the family.
Neither government identified the men.
DHL released a statement saying only that the 8:30 a.m. shooting killed two of its employees. DHL is cooperating with police and will not be releasing further details at this time, the statement said.
"At this difficult time our thoughts are with the families, friends and colleagues of those who have lost their lives under such tragic circumstances," it said.
Meanwhile, The Associated Press reported officials as saying that a private guard working for DHL opened fire and killed the company's country director and his deputy on Saturday before turning the gun on himself.
A preliminary investigation found that one of the Afghan security guards protecting the DHL compound opened fire on the car carrying the two victims when it pulled into the company headquarters, said Mirza Mohammad Yarmal, the Interior Ministry official in charge of criminal investigations, in quotes carried by AP.
The guard then put the barrel of his Kalishnikov rifle to his head and killed himself, Yarmal told AP.
He added that the guard had been hired only about a month ago from an area north of Kabul where Pashtuns -- the ethnic group the Taliban draws its fighters from -- lives. But he said police had no conclusive evidence linking the guard to the insurgent militia.
A Taliban spokesman denied that the militia was involved in the attack, according to AP.
DHL's headquarters are also located across the street from the Iranian Embassy and close to Afghanistan's intelligence service. The area is considered a relatively secure part of the city.
Earlier this week a woman with dual UK-South African citizenship was shot dead on her motorbike in Kabul. Gayle Williams, 34, was working as a relief worker in Afghanistan.
E-mail to a friend

Journalist Farhad Peikar contributed to this report.
All About Afghanistan