BEIJING, China (CNN) -- Chinese authorities plan to set up a third round of negotiations with representatives of the Dalai Lama, China's state-run media reported Wednesday.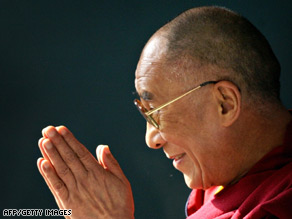 Some have sought Tibet's independence from China, but the Dalai Lama has sought genuine autonomy.
The report follows comments from the Dalai Lama on Tuesday in which the Tibetan leader said that his efforts have so far failed to craft a solution to the question of Tibet's status that would be mutually agreeable to Tibetans and the Chinese government.
The Dalai Lama's Web site carried a statement Tuesday conveying news of a forthcoming meeting of Tibetan exiles meant to identify "realistic and non-violent options for the future course of our struggle." The spiritual leader "feels that if he cannot help to find a solution, he would rather not hinder it," the statement said.
"His Holiness feels he cannot afford to pretend that his persistent efforts to find a mutually satisfactory solution to the Tibetan problem are bearing fruit," it said.
Violent clashes erupted in Tibet in March, with anti-Chinese demonstrators clashing with security forces amid resentment by some ethnic Tibetans of the influx of Han Chinese into Tibet.

Learn about Tibet's history of conflict »
The Chinese government blamed the Dalai Lama for the violence -- a charge he has consistently denied.
The government said Wednesday that it would go forward with negotiations with the Dalai Lama's representatives despite "some serious disruptions and sabotages to the Beijing Olympic Games by a handful of 'Tibet Independence' secessionists," according to a report in the state-run Xinhua news agency that cited a government official.
Some in Tibet have advocated independence from China, but the Dalai Lama has long called for genuine autonomy. Tibet is technically autonomous from the central Chinese government, but the Dalai Lama and others have said they favor genuine autonomy and resent the slow erosion of their culture amid an influx of Han Chinese, the most numerous ethnic group in China.
E-mail to a friend

All About Dalai Lama • Tibet • China