ISLAMABAD, Pakistan (CNN) -- Pakistan complained Monday to the top U.S. military commander in the area over American attacks against suspected terrorists inside Pakistan.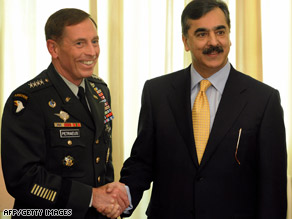 U.S. Gen. David Petraeus, left, meets Monday with Pakistan Prime Minister Yusuf Raza Gilani.
Gen. David Petraeus, making his first trip abroad as the new head of U.S. Central Command, met in Pakistan with new President Asif Ali Zardari, Prime Minister Yusuf Raza Gilani, and other government and military leaders. Asked by CNN's Reza Sayah if he heard any criticism over the U.S. attacks, Petraeus said he had.
"In fact, we got certain messages with each of those we talked today and some of those were very clear and we have to take those on board," Petraeus said Monday. "This is a partnership, a cooperative endeavor designed to achieve mutual goals and mutual interests and so we have to clearly accept that."
Speaking to CNN International, the Pakistani ambassador to the United States, expressed his country's displeasure Monday in no uncertain terms.
"The U.S. has to stop acting unilaterally," said Ambassador Husain Haqqani.
The U.S. has launched numerous missile attacks against suspected al Qaeda and Taliban hideouts in the remote tribal regions of Pakistan that borders Afghanistan.
Don't Miss
The U.S. military has become frustrated with Islamabad over the years, saying it has not done enough against militants -- a claim Pakistan denies. The United States also has complained that some Pakistani intelligence officials are helping the Taliban.
Petraeus said he broached the subject Monday.
"Well, in fact, we raised this issue," Petraeus said. "And I think the tone of the conversation today was very frank and very forthright as it should be, among partners who are facing a truly serious challenge, and that's the way we want to see it characterized and play out in the future."
Pakistan realizes the threat that terrorists pose, Petraeus said, and is committed to acting on it.
"One of the clear messages that I got today was the recognition by Pakistan's leaders [of] the existential threat as they see it from extremists who are in those areas," Petraeus said. "They are very serious about dealing with that threat."
Petraeus, who just finished a tour as the top commander in Iraq and now expands his duties to include Afghanistan, also said the United States will likely expand its presence there next year.
"There are a lot of assets, if you will, and resources that are required," the general said. "Certainly, there are additional forces that are announced as going to Afghanistan from the U.S. as well as some of the other coalition members."
Petraeus also reiterated that the United States would not oppose the Afghani or Pakistani governments talking with some elements of the Taliban or other insurgents.
"It is conceivable that at some point there could be dialogue between various nation governments and some of those they would deem as reconcilable," Petraeus said. "I have also said on a number of occasions that it's not possible to kill or capture your way out of an industrial strength insurgency, which is clearly what Afghanistan faces."
Part of the Petraeus doctrine in Iraq was to co-opt militants who had formerly attacked U.S.-led forces.
E-mail to a friend

All About Pakistan • David Petraeus