By Elizabeth Yuan
CNN
(CNN) -- It took a central power and a "world" event to trigger the transformation of a medieval city into a modern one. During a two-decade period, wide avenues took shape in the capital's historic core, obliterating winding alleys and entire neighborhoods, displacing an estimated 350,000 residents and pushing the working class out of the city center.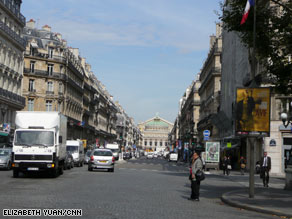 Paris' Opera, at centre, and wide boulevards were products of the Haussmann era.
It wasn't Beijing and the Olympics.
Paris was an unhealthy, dark, maze-like city undergoing an upgrade. Less than a decade before it was to host the 1855 Universal Exposition, or World's Fair, a cholera epidemic wiped out about 20,000 people. Grand boulevards were seen as a way to remove crowded quarters and narrow streets, which revolutionaries had barricaded with ease; connect the city and monuments; and improve traffic.
There was a particular push to transform the city for 1855 since the city was to be put "on show," said Museum of Modern Art curator Barry Bergdoll. But changes didn't stop there. Between 1853 and 1870 -- when Georges-Eugene Haussmann was civic planner -- the city gained a sewer system, new train stations, and a redesigned Place de l'Etoile, from which radiated newly created avenues. Outside towns were annexed and became Paris' eight new arrondissements.
The destruction of the old city for something modern led to an outcry. Criticism manifested itself in the arts, from Emile Zola's 1872 novel, "La Curee," depicting greed and property speculation, to Edouard Manet's 1862 painting, "The Old Musician," showing the city's dispossessed. Paris was seen as catering to a rising bourgeoisie: The city's vendors were consolidated under the roof of Les Halles, and a new opera house, then under construction, became a symbol of the times.
Haussmann's boss was none other than Emperor Napoleon III, who was facing a capital surplus problem and high unemployment at home. In an essay, "The Right to the City," social theorist and geographer David Harvey drew parallels between today's China and Second Empire France, pointing to Napoleon III's announcement of a "vast program of infrastructural investment both at home and abroad."
"Abroad this meant the construction of railroads throughout Europe and down into the Orient as well as support for grand works such as the Suez Canal," Harvey noted, while domestically, the answer lay in the urbanization of Paris.
The development on the scale seen by Second Empire France and China coincided with "highly centralized systems of control," said Harvey in a follow-up telephone conversation.
New York City underwent its own transformation between 1924 and 1968, also under a single man, Robert Moses. Under his five-decade tenure as an unelected official in charge of as many as 12 governmental entities, Moses -- an admirer of Haussmann -- built a legacy best boiled down in numbers: 627 miles of expressways and parkways, 20,000 acres of parkland, 1,082 apartment buildings, 658 playgrounds, and seven bridges, according to Robert Caro, author of "The Power Broker," the 1975 Pulitzer Prize-winning biography of Moses.
His projects cost $27 billion and destroyed 21 neighborhoods, said Caro, who estimated 500,000 people were evicted -- and rehoused -- by Moses' public works. The question his legacy poses is one Beijing faces today, Caro said: "How do you build the great public works needed by huge cities and preserve the values that a city ought to preserve?" Those values being community, neighborhood and a sense of history and home, he added.
Recent exhibitions and a book, "Robert Moses and the Modern City," have reassessed Moses' legacy, crediting him for New York's rise, not fall, as the subtitle of Caro's biography states. "I would say that [Moses'] work was necessary for New York to embrace the 20th century," said the book's co-editor, Kenneth T. Jackson, a Columbia history professor and former president of the New-York Historical Society.
A world city needs good highway facilities, transportation and infrastructure to handle the population that lives there, Jackson argued. "You can't rebuild a city without moving people around," he added. "To restructure a city to meet the requirements of the modern age means that people are in the way."
Most of the rehoused people previously lived without bathrooms, adequate light, ventilation or heating, said Jackson. "Yes, people were moved around, but most people lived in better houses than before," namely in banal public housing, he added, referring to another of Moses' legacies.
Meanwhile, the construction of the United Nations headquarters and Lincoln Center gave New York world capital status. Where today Lincoln Center stands was once home to thousands of residents of San Juan Hill. As head of the Mayor's Committee on Slum Clearance, Moses declared the area ripe for urban renewal. The result: new digs for the New York Philharmonic, the Metropolitan Opera, the New York State Theatre, and The Juilliard School.
As for Beijing, where the "Bird's Nest," the National Theatre, and the CCTV Tower have become the newest landmarks, the city has weathered its share of outcries against the destruction of the old in favor of the new.
Jackson insists cities must change. "I think Paris, often regarded as everyone's favorite city, is hard to imagine without Haussmann. It's hard to imagine New York without Robert Moses," he said. What people need is for what emerges to be as good as what it replaced, he said.
E-mail to a friend

All About China • Beijing • Paris • New York City