(CNN) -- One major issue in reducing global carbon emissions is how developing nations can lower both national poverty and carbon emission.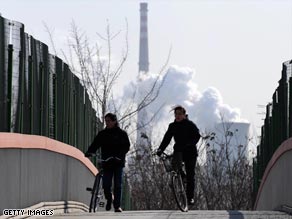 Who is most responsible for carbon emissions and who should pay the most to reduce them?
The underprivileged now have their own global cheerleader in the form of the Greenhouse Development Rights (GDR) framework, an initiative created by an organization called EcoEquity and the Stockholm Environment Institute.
It creates a system where payments for reductions are not just based on the level of responsibility for emissions, but on the capacity to pay for it as well.
CNN learns more from Tom Athanasiou, one of GDR's creators.
CNN: Why is there a need for this framework?
Athanasiou: The main thing is that the rich countries caused the problem. Tthey still haven't done enough to ease concerns of the developing world.
In the U.S. there is a political opposition that says we shouldn't act before China as they are getting rich and if we become less competitive and reduce reliance on fossil fuels they will eat our lunch.

Watch the relationship between China's pollution and its exports »
But China is still a poor country. And they see the U.S. as part of the problem. [The Chinese think] that China should not have to take on binding obligations until the rest of the industrialized world solves this problem.
It's an impasse that threatens to become a deadlock. The bottom line is we are really in trouble and any plausible emissions pathway is going to be far outside the parameters of realism.
Unless the climate regime becomes a climate and development regime, the [developing world] is never going to fully engage with the regime. The question we ask is what would actually be fair?
CNN: So what do you think is fair?
Athanasiou: There has to be a right to development. Anyone who is below the development threshold shouldn't have to pay. We are making an argument for global economic climate justice.
Our claim is that both responsibility and capacity have to be seen in terms of rich-poor income distribution. This is about the capacity to act. To calculate what we define as the development threshold.
So these people, whether they live in rich or poor countries shouldn't have to pay, while those above [the threshold] should have to pay this tax regardless of where they live. This is not about the redistribution of wealth. This is more of a global climate tax.
CNN: How do you calculate the tax?
Athanasiou: Let's say the U.S. gets a tax - those taxes are all calculated in a way in respect of the history of their emissions, but doesn't count against any people living below the development threshold. When the tax is calculated, the income and emissions of people below the threshold is not counted.
CNN: What is the threshold?
Athanasiou: We have set the development threshold at $7,500 per person per year, that's $20 per day and what it constitutes is current best thinking on what a global development line should be.
It's at that number that people can have a bicycle, perhaps a house you can lock, enough grain and a little meat now and then. It's not anything you would be happy with in the rich but it is much better than [conditions at] the poverty line now.
CNN: How would taxes raised in the U.S. help developing countries?
Athanasiou: Based on our trajectory, global emissions peak at 2013 and fall by 6 percent a year after that. We call this the 2 degree emergency pathway and we are talking about very rapid reductions. In these times a wealthy country like the U.S. would have to pay reductions of a sufficient size.
But at one point their responsibility will be higher than their emissions in 1990.
When that happens you can't do it domestically, you can only do it by paying for projects in other countries. It's not an offset in the current use of the term but it is an emissions reduction that you pay to have done somewhere else.
CNN: Who would you want to be responsible for managing the collected taxes?
Athanasiou: The United Nations Framework Convention on Climate Change. It has to be. It can't be the World Bank. The World Bank is undemocratic, it is controlled by donor countries and the money spent based on choices of donor countries is seen as aid. This is not aid. It is [poorer nations'] right.
E-mail to a friend

All About Global Climate Change