By Geoff Hiscock
For CNN
(CNN) -- When Renault unleashed its Formula 1 race cars and drivers on the hallowed ground of New Delhi's Rajpath boulevard on November 9 for a display of Grand Prix razzle-dazzle, the car-loving fans in the Indian capital went wild.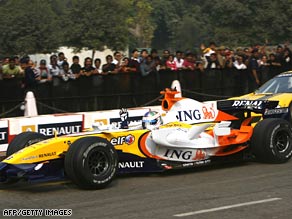 A Renault Formula 1 car performs during a roadshow in New Delhi, India, on November 9.
For Renault, it was a branding exercise in what is quickly becoming one of the world's most important hubs for the production, sale and export of small cars.
As car sales slump globally -- down 24 percent in October year-on-year in the United States alone -- auto makers are shifting production to lower-cost locales where they can take advantage of what they hope eventually will be better times ahead.
Renault is just one of many global brands investing heavily in the Indian auto sector, building alliances with domestic manufacturers and setting up state-of-the-art plants that will see India triple its car production to 5 million units within five years.
Honda, Toyota, General Motors, Ford, Volkswagen and Nissan are among those with great expectations for their Indian operations, and between them have around US$6 billion earmarked for expansion.
South Korea's Hyundai has already taken a handy lead in this crowded market, launching its i10 and i20 small cars with India as its production base for exports to Europe.
It recently doubled its capacity at its Chennai plant to 600,000 units a year and is now India's biggest car exporter, shipping a record 26,000 units in October 2008. Hyundai also has about 18 percent of the domestic Indian car market.
Hyundai's great rival is the powerful combination of Japan's Suzuki and domestic partner Maruti, which kicked off the modernization of India's nascent car industry in late 1983 with the Maruti 800.
Until then, India's few car buyers were restricted to locally made clones of outdated European cars such as the Morris Oxford (the platform for Hindustan Motors' Ambassador) and the Fiat 1100 (platform for Premier Motors' Padmini), plus a handful of imports for the favored few.
There was no culture of technological innovation and little chance of car ownership for the masses until the Maruti 800 came along.
Based on an earlier Suzuki Alto model, the 0.8 liter-engine Maruti minicar revolutionized car ownership in India and has dominated the market ever since. Even today, with the advent of many new competitors, Maruti has 55 percent of the passenger car market, and has set itself the ambitious goal of 1 million domestic sales across its 11-model range by 2010-11, up from 712,000 in 2007-08.
Later in November it will launch its 1-liter global car, known in India as the A-Star, and will begin exports of the car to Europe in early 2009. Maruti's parent Suzuki, which now has 54 percent ownership of Maruti Suzuki India Ltd, has big plans for its Indian operations, given what it says is a global trend to small cars.
Even with the slowdown, by next year as much as a third of Suzuki's worldwide sales could come from India.
Other Japanese makers share Suzuki's enthusiasm for India's auto potential. "Our faith in India's growth story remains intact," Honda Motors CEO Takeo Fukui said when he opened a new plant in Rajasthan in September. This plant eventually will make the Honda Jazz, another small car destined for export to Europe by mid-2009.
Toyota, through its joint venture Toyota Kirloskar Motor, aims to lift its Indian sales from about 55,000 last year to 400,000 by 2015 for a 10 percent market share. To help meet that ambitious plan, it will open a new small-car plant by late 2010 near Bangalore in India's south.
General Motors has a new 140,000-unit car plant near the automotive production hub of Pune that lifts its annual capacity to 225,000 units, and is spending another US$200 million on a new engine plant.
Likewise, VW is spending $300 million on a new Pune plant that will begin production in 2009, with an eventual capacity of 300,000 small cars a year. Ford, too, is spending $500 million to increase its engine and vehicle production at Chennai to 200,000 units by 2010.
Nissan, in alliance with key shareholder Renault, has a joint venture with local producer Mahindra & Mahindra to make the Logan passenger car.
Nissan, which says it aims to sell 200,000 cars a year in India by 2012, also is investing US$1 billion with Renault in a plant at Chennai in India's south, which will turn out 400,000 cars a year when it hits full capacity. The first cars, for export and local sale, are due in 2010.
The Renault-Nissan alliance has a separate joint venture with India's two-wheel specialist Bajaj Auto to produce an ultra light car (ULC) at Chakan, near Pune. Renault spokesman Ashish Sinharoy told CNN.com that construction work on the 400,000-unit plant probably would start in the first quarter of 2009.
"We intend to have the first cars roll out in 2011, as per the schedule," he said. The ULC is designed to compete with other low-cost cars in India, including Tata Motor's long-awaitedNano "people's car."

The Nano, due to go on sale by year's end as the world's cheapest car at about US$2,500, is pitched at a whole new car ownership market -- people who now aspire only to buy a two-wheel motor scooter or motor cycle. That prompted Bajaj to promise its own four-wheel challenge.
At the auto industry's annual convention in New Delhi recently, Commerce Minister Kamal Nath termed the current slowdown a "passing phase" and said auto exports should be worth $25 billion "in the next decade."
Despite Nath's optimism, India is still a small player globally. It produced just 1.76 million passenger cars and 545,000 commercial vehicles in the year to March 31, 2008, of which about 218,000 cars and 60,000 trucks were exported.
That puts it well behind Japan (11.6 million passenger and commercial vehicles in 2007), the U.S. (10.8 million), China (8.8 million), Germany (6.2 million) and South Korea (4.1 million). France, Brazil, Spain and Canada also are bigger producers than India.
But the momentum is with India. It is adding capacity faster than the developed markets, and by 2014-15 could produce 5 million cars, including a million for export.
E-mail to a friend

Geoff Hiscock writes on Indian business and is the author of "India's Global Wealth Club" (2007) and "India's Store Wars" (2008), both published by John Wiley & Sons.
All About India • Business • Transportation