By Geoff Hiscock
For CNN
(CNN) -- Back in 1962, India and China fought a short, sharp border war in the Himalayas that left the two Asian giants in an uneasy political relationship for decades.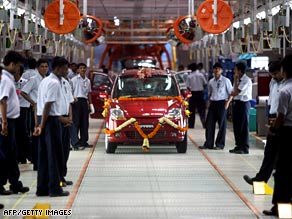 The Spark car rolls out of General Motors' new plant in Pune, India, on September 2.
The legacy of suspicion from that high-altitude conflict crimped economic ties too, delaying the growth of what is now expected to become one of the most important trade relationships in the world.
By 2010, India and China aim to have a bilateral trade flow worth US$60 billion, and as much as $100 billion by 2014, with both sides emphasizing that they want to be cooperative partners, not competitors.
That is the leadership rhetoric. But long before 2040, when China and India are likely to be the world's two biggest economies, they may be competitors for scarce energy resources and investment opportunities in markets such as Africa, Central Asia, Southeast Asia and Latin America.
China is already the world's biggest exporter of goods and services, with a trade volume of exports eight times larger than India's. China has had a lengthy head start as a global trader -- it opened up its economy in 1978, while India kept its doors shuttered until 1991.
Still, as India has reformed its economy and opened up to the outside world in the past decade, its trade performance has risen dramatically. Two-way merchandise trade in the fiscal year to March 31, 2008 reached $414 billion, up more than 30 percent from the previous year. Trade in services added another $125 billion.
While imports occupy the biggest part of the trade picture, India's export push is gathering serious momentum, tripling in value over the past five years, from $53 billion in 2002-03FY to $163 billion of merchandise in 2007-08FY.
But India is still working off a very low base, accounting for just 1.5 percent of global trade. For an economy that is now one of the largest in the world, it shows just how dominant India's domestic focus has been, apart from a few high-profile export-oriented sectors such as information technology, IT-enabled services, pharmaceuticals, textiles and automotive components.
India's goal is to lift its share of world trade to around 5 percent by 2020. To do that, it will need, for example, to dramatically improve its agricultural logistics and food processing capabilities to make the most of its potential as the world's food basket.
The nation also will need to boost its manufacturing sector -- such as by becoming a global hub for small-car makers. This is a role already envisioned in the $6 billion of investments now being made by Hyundai, Nissan, Renault, Suzuki, Toyota, Honda, GM and other makers in setting up and expanding Indian automotive plants.
China, India forge closer ties
For now, the United States is India's single biggest trade partner, but China is likely to take on that mantle within a year or two. India's exports to the U.S. -- mainly IT and IT-enabled services, pharmaceuticals and chemicals -- hit $18.5 billion in 2007-08, part of the two-way trade between India and the U.S. that has increased from $20 billion in 2004-05 to $40 billion in 2007-08 and will likely reach $50 billion in 2008-09.
India-China bilateral trade is expected to grow from $38 billion in 2007-08 to $50 billion in 2008-09, $60 billion in 2009-10 and then hit $100 billion by 2013-14.
During a landmark visit to India in November 2006, China's President Hu Jintao and Indian Prime Minister Manmohan Singh agreed on a 10-point plan to increase cooperation, with a focus on economic and commercial exchanges. Hu spoke of what he said was the "enormous potential" for increased bilateral business ties.
Singh visited China in January 2008, where he and Premier Wen Jiabao pledged to lift the volume of bilateral trade to $60 billion by 2010 and to resolve their border issues through peaceful negotiation.
"We are cooperative partners, rather than competitors," Wen said. Singh was also in Beijing last month (October) to attend the Asia-Europe Summit where he again met Wen and Hu. But the border tensions remain, with Arunachal Pradesh in India's north-east the focus of recent diplomatic exchanges.
Along with the China and the U.S., Europe is an important trade partner for India. The 27-nation EU bloc remains the largest regional partner, with two-way trade of almost $80 billion in 2007-08.
Japan also plays a vital trade role with India, as do the key business hubs of Dubai and Singapore, where many of the overseas Indian entrepreneurs working in the Middle East and Southeast Asia respectively make their homes.
That is reflected in the makeup of India's five most important export destinations in 2007-08. The United States topped the list, with a share of 12.7 percent, followed by the United Arab Emirates with 9.6 percent, China 6.6 percent, Singapore 4.5 percent and the UK 4.1 percent. Among the top 10 buyers of Indian goods, Japan and Hong Kong grew the fastest in 2007-08, with both registering gains of 20 percent.
India urged to 'think increasingly global'
In June this year, investment bank Goldman Sachs offered a lengthy prescription for what India needed to do to achieve its full 2050 potential. One of its key points was for India to increase its trade not just with China, but with its two other populous neighbors, Bangladesh and Pakistan. It noted that territorial and border disputes had restricted trade in the past.
Even so, it said, "given the potential due to the size of their populations, the scope for rapidly rising trade is substantial." It said that Russia and other emerging economies such as Indonesia and Iran also were geographically not too far away, as were Egypt, Turkey, the Philippines and Vietnam.
"If India can be encouraged to think increasingly global, the virtuous benefits of trade with other emerging giants with large populations could be a source of considerable upside surprise for India," Goldman Sachs economists Jim O'Neill and Tushar Poddar wrote.
But before any "upside surprise," there is the gritty reality of India's many structural problems.
"We need to develop world class infrastructure," said Commerce Minister Kamal Nath, outlining India's trade policy for 2004-09 earlier this year. "We need to encourage e-commerce, and facilitate trade through EDI (electronic data interchange) such that turnaround times at ports, airports, inland container depots and land custom stations match world standards," he said.
Nath expressed confidence that India could reach its "ambitious target" of a 5 percent share of world trade in goods and services by 2020. If India succeeded, he said, it would once again become the "trading superpower" it was two centuries ago.
E-mail to a friend

Geoff Hiscock writes on Indian business and is the author of "India's Global Wealth Club" (2007) and "India's Store Wars" (2008), both published by John Wiley & Sons.