From Mukhtar Ahmad
Journalist
SRINAGAR, Indian-controlled Kashmir (CNN) -- Indian police clashed with separatist groups as voters went to the polls in Indian-controlled Kashmir on Monday.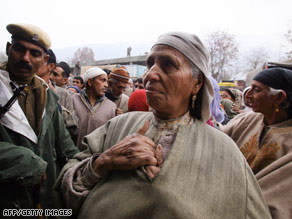 Kashmiri Muslims queue outside a polling station in Bandipore, south of Srinagar, on Monday.
Muslim separatist groups blocked polling stations and shouted anti-election slogans as they protested Indian rule and alleged voter intimidation.
Police dispersed the angry demonstrators with batons in North Kashmir's Bandipore district, one of the areas where the first phase of voting is taking place.
The state elections began after months of violent protests, both by anti-Indian groups, fearful state elections will firm up Indian control of the Muslim majority state, and by Indian nationalists, fearful that separatist groups will gain control over the Himalayan state.
Kashmir, divided between India and Pakistan and claimed by both, has been wracked by an 18-year bloody separatist campaign that authorities say has left at least 43,000 dead.
"We are voting to elect our local representative to take care of our local needs of roads, water and power supply. Our vote cannot resolve the Kashmir problem," said local resident Mohammed Afzal.
Despite the violence, long lines of voters wrapped around polling stations in Bandipore early Monday morning.
Forty-four percent of Bandipore district residents voted Monday, according to chief election officer B.R. Sharma.
Voter turnout in the seven other constituencies where voting opened without major protests Monday was around 55 percent, Sharma said.
Indian-controlled Kashmir will have a seven-phase polling process leading to a newly elected government by the new year.
E-mail to a friend