KABUL, Afghanistan (CNN) -- A Taliban spokesman said Monday that Afghan President Hamid Karzai did not have the authority to make a peace offering to its reclusive leader, Mullah Omar.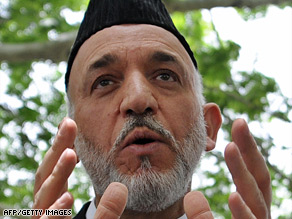 Hamid Karzai says he will "go to any lengths" to provide protection to Mullah Omar if he enters peace talks.
Karzai said over the weekend he would "go to any lengths" to provide protection to Mullah Omar if the militant leader agrees to enter peace talks.
Taliban spokesman Qari Yousif told CNN that Karzai's offer is meaningless because he has to rely on the British and the Americans to provide his own security.
Yousif said his group would not negotiate peace as long as international forces remained in Afghanistan.
Karzai told reporters in Kabul on Sunday that if Mullah Omar is "willing to come to Afghanistan or to negotiate for peace and for the well-being of the Afghans, so that our children are not killed anymore, I, as the president of Afghanistan, will go to any length to provide him protection."
He added that the international community has two choices if they disagree with his overture: either try to oust him, or leave.

Watch more about Karzai on the Taliban »
A White House official Monday cast strong doubt on the willingness of the Taliban's reclusive leader to spurn his group's violent ways and back the Afghan government.
"No one has heard from Mullah Omar in sometime, and given attacks like last week's when some Taliban threw acid on girls going to school, many don't seem to show a willingness to negotiate," said National Security Council spokesman Gordon Johndroe "We're not seeing any indication from Mullah Omar that he is ready to renounce violence, break all ties to al Qaeda and support the Afghan government and constitution."
Omar has been on the U.S. military's most-wanted list since a U.S.-led coalition ousted the Taliban rulers from Afghanistan in 2001. He is accused of harboring al Qaeda leader Osama bin Laden in Afghanistan in the run-up to the September 11, 2001, terrorist attacks on New York and Washington, and the U.S. government has offered $10 million for information leading to his capture.
Karzai came to power with the support and backing of the international leaders he seems to be defying with his latest comments. In recent months, he has also taken the United States to task for mounting civilian casualties resulting from U.S. air strikes on apparent militant targets.
In September, Taliban representatives met with Afghan and Pakistani officials during a dinner hosted by Saudi Arabia's king. All parties agreed that the only solution to Afghanistan's conflict is through dialogue and not fighting, a source told CNN's Nic Robertson.
The sides agreed on another round of talks in the Saudi city of Mecca in December, according to the source -- who cannot be named because he is not allowed to speak publicly on this subject. The source has provided reliable information in the past.
The source said the Saudis believe Omar wants a commitment from Karzai to talk to the United States about phasing out U.S. troops from Afghanistan.
Karzai has said foreign troops are necessary for Afghanistan's security.
E-mail to a friend

CNN's Ingrid Formanek contributed to this report.
All About Hamid Karzai • Mullah Mohammed Omar • Afghanistan • Osama bin Laden • Al Qaeda • The Taliban