ISLAMABAD, Pakistan (CNN) -- The NATO-led alliance in Afghanistan said its troops fired at militants inside Pakistan in coordination with Pakistani soldiers.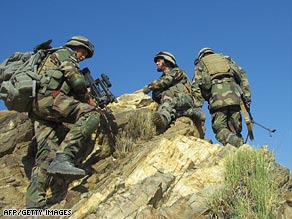 French soldiers of ISAF on patrol near Kabul on November 8.
The distinction is a noteworthy one because Pakistan has, in recent months, complained that international forces were violating the country's sovereignty by going after militants inside its borders.
The NATO-led International Security Assistance Force said Monday that the artillery fire Sunday was in response to an attack on an allied base in Paktika province, in eastern Afghanistan. Militants twice fired rockets into the base from across the border, the alliance said.
Once ISAF soldiers pinpointed the origin of the rocket launches, they fired 20 artillery rounds in coordination with the Pakistani military.
"ISAF and Pakistani soldiers observed all fired artillery rounds," an alliance statement issued on Monday said. "The Pakistan soldiers assured ISAF that they would engage any insurgents attempting to flee deeper into Pakistan." No NATO soldiers were hurt in the rocket attack.
ISAF also re-released a statement from September that said its forces can fire back on militants in self-defense under an agreement with Pakistani authorities.
About 40 countries have contributed troops to ISAF, which is charged with supporting the Afghan government in the battle against the Taliban and al Qaeda.
Pakistan has repeatedly raised objections to violations of its sovereignty during the Afghan conflict. A U.S. ground operation in September left several Pakistani civilians dead, and unmanned American drones have carried out several missile strikes inside Pakistan that have resulted in many more casualties.
The actions have not only rankled relations between the two countries, but Pakistan says the raids have undermined public support for its counterterrorism efforts.
The U.S-led coalition and ISAF have been seeking a way to effectively battle militants who are launching attacks from Pakistan's swath of tribal areas along the border with Afghanistan. They have become frustrated with Islamabad over the years, saying it is not being proactive enough against militants -- a claim Pakistan denies.
In western Afghanistan, coalition forces on Tuesday killed five militants and destroyed a weapons cache in Farah province, the U.S.-led coalition said.
"The militants were tracked to a remote location about 75 kilometers northwest of Farah city where they were observed loading weapons into a vehicle from a weapons cache. Coalition aircraft used precision munitions to destroy the militants, weapons and vehicle. There were no civilians or man-made structures in the vicinity of the operation," the coalition said.
E-mail to a friend

CNN's Reza Sayah contributed to this report
All About Pakistan • Afghanistan