TOKYO, Japan (CNN) -- Authorities are investigating attacks on the families of two former Japanese Health Ministry officials that left two dead and one seriously injured, police said Wednesday.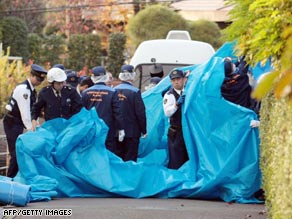 Police on Tuesday inspect a murder site where a former deputy health minister and his wife were killed.
"It is not clear that the two cases are somewhat linked or not linked," Prime Minister Taro Aso said. "I'd like to pray for the souls of the dead people and recovery of the injured."
Former Vice Health Minister Takehiko Yamaguchi, 66, and his wife Michiko Yamaguchi, 61, were found dead on Tuesday at their residence in Saitama, about 17 miles (27 km) northeast of central Tokyo, Saitama police said. Both had been stabbed to death and were found in a pool of blood by a relative who lived next door.
A third stabbing took place in Tokyo's Nakano Ward, where Yasuko Yoshihara, 72, wife of Kenji Yoshihara, another former vice health minister, was stabbed in the chest, a Tokyo police spokesman said. A vocational student walking home heard Yoshihara's scream, found her and called an ambulance.

Watch a report on the police investigation »
Yoshihara told police the assailant approached her, pretending to be with a parcel delivery service, and then attacked. She was hospitalized in serious condition, authorities said.
Both Takehiko Yamaguchi and Kenji Yoshihara are credited with crafting the current framework of Japan's financially troubled pension system, which is similar to Social Security in the United States, and is on the verge of collapsing.
Because of the attacks, security is being tightening around many Japanese public officials, including the prime minister, Aso's spokesman said.
E-mail to a friend

CNN's Kyung Lah and Chie Kobayashi contributed to this report.
All About Taro Aso