ISLAMABAD, Pakistan (CNN) -- A suspected U.S. missile strike in northwestern Pakistan left five dead and seven wounded early Wednesday, a local official said.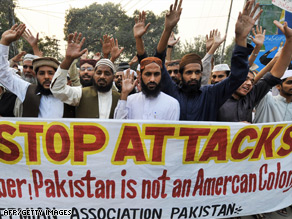 Protestors in Lahore demonstrate against U.S. missile strikes on the Pakistani tribal areas.
The strike targeted a home outside the tribal areas that U.S. intelligence says have become a haven for Taliban and al Qaeda fighters battling U.S. and NATO troops in neighboring Afghanistan, and was deeper inside Pakistani territory than previous attacks.
At least three non-Pakistanis were believed to be living at the home that was the target of the raid, local official Abdul Hameed, told CNN.
It occurred about 3:30 a.m. Wednesday (8:30 p.m. Tuesday ET) near Jani Khel, in the Bannu region of Pakistan's North West Frontier province, he said.
The U.S. government has not acknowledged hitting targets within Pakistan, an ally in the war on al Qaeda launched after the September 11, 2001, attacks on New York and Washington.
But Pakistan's government has complained about the strikes, describing them as a violation of its sovereignty and lodging a formal complaint with the U.S. Embassy in October.
Wednesday's attack was the third suspected U.S. strike on Pakistani soil in November and the first to hit outside the tribal districts.
On Tuesday, the NATO-led alliance in Afghanistan said its troops fired at militants inside Pakistan in coordination with Pakistani soldiers.
The distinction is a noteworthy one because Pakistan has, in recent months, complained that international forces were violating the country's sovereignty by going after militants inside its borders.
The NATO-led International Security Assistance Force said Monday that the artillery fire Sunday was in response to an attack on an allied base in Paktika province, in eastern Afghanistan. Militants twice fired rockets into the base from across the border, the alliance said.
Once ISAF soldiers pinpointed the origin of the rocket launches, they fired 20 artillery rounds in coordination with the Pakistani military.
"ISAF and Pakistani soldiers observed all fired artillery rounds," an alliance statement issued on Monday said. "The Pakistan soldiers assured ISAF that they would engage any insurgents attempting to flee deeper into Pakistan." No NATO soldiers were hurt in the rocket attack.
ISAF also re-released a statement from September that said its forces can fire back on militants in self-defense under an agreement with Pakistani authorities.
About 40 countries have contributed troops to ISAF, which is charged with supporting the Afghan government in the battle against the Taliban and al Qaeda.
E-mail to a friend

-- CNN's Reza Sayah and Zein Basravi contributed to this report.
All About Pakistan • Afghanistan