(CNN) -- The United States will urge allies next month to finalize a protocol that would allow them to check whether North Korea has revealed all its nuclear secrets, Secretary of State Condoleezza Rice said Sunday.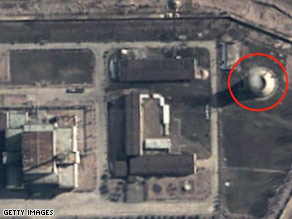 A satellite view of the nuclear facility at Yongbyon.
"We expect that there will be a push to finalize the verification protocol," she told reporters en route to Washington from the Asia-Pacific economic summit in Peru.
The United States, China, Japan, South Korea and Russia are scheduled to meet with North Korea for the next round of six-party talks on December 8.
North Korea agreed to the protocol last month after Washington removed the reclusive nation from its list of state sponsors of terrorism. However, the six parties involved in the nuclear negotiations have yet to sign the protocol.
Diplomatic sources say North Korea is not eager to put anything in writing, which makes it difficult to hold the country accountable.
In October, North Korea resumed the process of dismantling its nuclear reactor at Yongbyon and once again granted access to inspectors from the United Nations' nuclear watchdog, the International Atomic Energy Agency. Inspectors at the site reported at the time that North Korea had removed about 60 percent of the spent fuel rods at the reactor.
The U.S. point man on the negotiations, Assistant Secretary of State Chris Hill, traveled to North Korea for talks last month, but little was released about what he learned.
"It's very important that that verification protocol reflect the discussions that Chris Hill had with his North Korean counterparts when he was in Pyongyang, a set of assurances that were given," Rice said.
"But it's also very important ... that this verification protocol is going to have to be robust enough to make certain that we're dealing with all of North Korea's nuclear programs."
E-mail to a friend

All About North Korea • Nuclear Proliferation • Yongbyon • Condoleezza Rice