BANGKOK, Thailand (CNN) -- Protesters blockading international flights to Bangkok threatened to draft in more demonstrators Monday as the tense standoff with authorities looked set to enter a second week.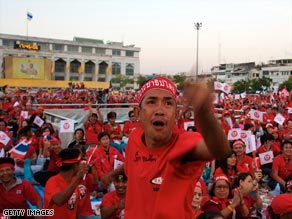 Pro-government demonstrators gather outside Bangkok city hall on Sunday.
Parnthep Puapongpan, a spokesman for the People's Alliance for Democracy -- which is leading the protests -- said it planned to end an occupation at the Thai prime minister's main offices, where demonstrators have camped out since August 26, and divert demonstrators to the two airports.
He did not say how soon the protesters will end their sit-in at Government House, where they have fortified a site with sandbags, tires and shells of burnt-out buses.
Anti-government protesters still seem to be in control after the six-day standoff at the main Suvarnabhumi international airport, with PAD supporters blocking the highway leading to the facility and setting up numerous checkpoints using razor wire, abandoned cars and baseball bats. Police are seemingly unwilling or unable to move in.

Watch more about the travel chaos »
A police helicopter flew over the airport Monday afternoon, twice dropping hundreds of leaflets telling protesters that the government wants to resolve the crisis peacefully. The leaflets also urged residents to avoid the airport and surrounding area if possible.
The anti-government alliance has vowed not to withdraw until the government resigns. It accuses the current administration -- led by Prime Minister Somchai Wongsawat's People Power Party (PPP) -- of being a proxy government for one-time Prime Minister Thaksin Shinawatra.
Thaksin was ousted in a bloodless coup in 2006, but returned to Thailand after the PPP swept to power in December 2007. He fled again in August just as he was to appear in a corruption case against him.
Anti-government protesters want Thaksin extradited and tried on those charges, and accuses the PPP government of wanting to amend the constitution, so Thaksin does not have to face charges.
Protesters at Suvarnabhumi Monday granted two small concessions to help alleviate the misery of thousands of travelers.
By Monday afternoon, 37 aircraft had left Suvarnabhumi. All but one airplane, which flew empty to Shanghai, landed at the U-Tapao Royal Thai Navy Airfield, about 140 km (90 miles) southeast of Bangkok, airport spokeswoman Monrudee Gettuphan said. From there, travelers can try to catch a flight home.
Don't Miss
And a convoy of buses, carrying Muslim pilgrims stranded at Suvarnabhumi since last Tuesday, was allowed to leave for the naval base. From there they can make their trip to Saudi Arabia for the Hajj, a pilgrimage that Islam requires all able-bodied Muslims to make at least once in their lifetime.
Authorities have estimated 100,000 passengers have been stranded at Suvarnabhumi since protesters began the siege, which has had a devastating impact on Thailand's tourism industry.
Agencies reported Monday that the French government was sending a Boeing 747 to Thailand to help bring French citizens home.
Frederic Desagneaux, a French foreign ministry spokesman, told reporters that the plane would take around 500 people and give priority to those with small children, people with health issues and senior citizens, The Associated Press reported.
About 60,000 tourists arrive at the airport every day. Each day it remains shut, airport authorities lose about 50 million baht ($1.4 million) in income, according to the Thai News Agency.
"We wish we hadn't come here at all," said Keri Gannam, a visitor from the United States, who was honeymooning in Thailand. "It's just stressful. It's taken away everything... I'm supposed to have job interviews. I missed them."
"Money isn't flowing in for us," said her husband, Andy. "And we came here to take a couple of relaxing weeks -- something both of us had earned. And it's turned out being a disaster, basically."
The anti-government alliance has also taken over Don Muang, another smaller airport, which the government had been using as its temporary office after being shut out of its headquarters.
At times, the protests have turned violent. A pair of explosions injured 49 people -- three of them seriously -- when what was believed to be a grenade was launched at protesters at Government House early Sunday. Later, police said there was another blast in a road in front of Don Muang.
Police say they do not know who carried out the attacks. But the PAD blamed pro-government supporters.
At the arrivals area of Suvarnabhumi Monday, a CNN cameraman recorded a group of protesters leading a man outside. The man, his clothes in tatters and too weak to walk on his own, appeared to have been beaten.
Somchai declared a state of emergency at the two airports last week, but it is not certain what powers the declaration gives the government. Somchai himself has been avoiding the capital, choosing instead to stay in the northern city of Chiang Mai, where he landed after returning from an economic summit in Peru last week.
Thailand's powerful army chief Gen. Anupong Paochinda has urged Somchai to dissolve parliament, call fresh elections -- and also asked the protesters to disperse. But both sides have ignored his comments.
E-mail to a friend

CNN's Dan Rivers and Kocha Olarn contributed to this report
All About Thaksin Shinawatra • Bangkok • Thailand • People's Alliance for Democracy