(CNN) -- Governments have warned their citizens about traveling to Thailand during the current wave of protests and blockade of international airports.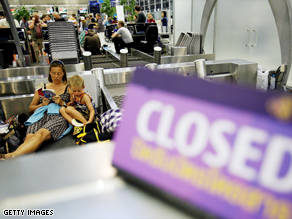 Passengers face a long wait inside Suvarnabhumi airport with most flights canceled.
More than 100,000 travelers have now been stranded at Suvarnabhumi and Don Muang airports since anti-government protesters erected barricades and forced the cancellation of hundreds of flights last week.
And while few governments have explicitly told their citizens not to go to Thailand, many warn it is something to be approached with great caution.
On its Web site, the U.S. Embassy in Bangkok advises U.S. citizens that all incoming and outgoing flights have been halted from the two airports, and that while it has conveyed its "deep concern" to the Thai authorities, "ultimately it is a situation that can only be resolved by those involved."
It also advises citizens against going anywhere near protests or becoming involved. "Even demonstrations intended to be peaceful can turn confrontational and possibly escalate into violence," the embassy advises. "American citizens are therefore urged to avoid areas of demonstrations, and to exercise caution within the vicinity of any demonstrations."
It reminds travelers that the Thai Foreign Ministry has arranged for 2000 Thai baht (around $55) credit compensation for stranded foreign nationals, available at hotels that are members of the Thai Hotel Association.

Watch more about the travel chaos »
The UK Foreign & Commonwealth Office advises its citizens that "the political situation in Thailand is very uncertain... You should avoid air travel into or through Bangkok for the foreseeable future. Regional airports in Thailand are likely to be congested and we advise you to consider carefully before flying into or through any other airport in Thailand."
It also tells travelers to "avoid the area around Government House, which anti-government protesters are occupying, and nearby Ratchadamnoen "Nok" Road, including the area around Metropolitan Police HQ and Parliament."
The Web site also states that "860,000 British nationals visited Thailand in 2007" -- an indication of how badly hit Thailand's economy has been by the airport shutdown.
Meanwhile Smart Traveller, the travel advisory service for the Australian government's Department of Foreign Affairs and Trade, tells travelers heading for Bangkok to "reconsider your need to travel" -- the second highest of its five levels of alert.
It states: "The strong divisions between pro- and anti-government groups have become more pronounced in recent days. In light of the high level of political instability and reports of military reinforcements, you should avoid demonstrations, political rallies, military deployments and concentrations of security personnel because of the ongoing political unrest."
The service urges travelers to pay heed to an emergency decree made by Thai Prime minister Somchai Wongsawat on November 27 for Suvarnabhumi and Don Muang airports. "In light of this decree, you should stay away from these airports until further notice."
The Tourism Authority of Thailand, besides listing hotels taking part in the compensation scheme, also supplies contact numbers for airline carriers and foreign embassies.
It also advises that the Minister of Tourism and Sports is attempting to find a location in central Bangkok where passengers can "check in and board their respective airlines conveniently. In the meantime, they should let the hotels facilitate them as best as possible until their time of departure."
E-mail to a friend

All About Thaksin Shinawatra • Bangkok • Thailand • People's Alliance for Democracy