(CNN) -- Asian and Pacific markets were mixed Thursday following a late rally on Wall Street that brought the Dow Jones industrial average up just over 2 percent.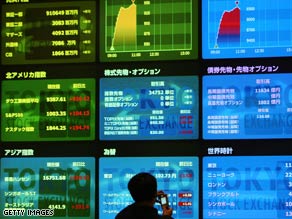 Asian and Pacific markets were mixed in early trading following a late rally on Wall Street.
Tokyo's Nikkei index was down 1.02 percent and Seoul's KOSPI index dipped 1.08 percent. Hong Kong's Hang Seng index defied the trend and was up 0.67 percent.
In Australia, the All Ordinaries index closed with a 0.09 percent slide.
On Wall Street Wednesday, investors considered a rash of weak economic reports but opted to scoop up select stocks anyway. The Standard & Poor's 500 index, at a 2.6 percent increase, and the Nasdaq composite, with a 2.9 percent gain, both outperformed the Dow.
The string of poor economic news sent stocks lower in the morning, but the selling petered out by midday. Stocks remained volatile in the afternoon, turning higher in the last hour.
Around 2 p.m. ET, the Federal Reserve released its periodic "beige book" survey of the U.S. economy. The survey showed that economic conditions have deteriorated in all 12 of the Fed's districts. However, the report was expected to show weakness, and stocks turned higher shortly after its release.
"We're not expecting good news on the economy and we haven't been getting any," said Bill Flaig, chief investment officer at Arrow Funds. "The reports keep coming in a little weaker than expected, but not dramatically."
He said that the market is in the process of trying to fully anticipate how bad the economic news is and that it isn't quite there yet. Until that happens, stocks will remain vulnerable to big declines.
"We could still get a bounce through year end or early January," he said. "However, if that is the case, it will be a bear market bounce. After that, the reports are going to get worse and that could cause another leg down."
Weak readings on the labor market were released Wednesday morning, adding to bets that Friday's big national employment report will be pretty dismal.
Private-sector employers cut 250,000 jobs from their payrolls in November, according to a report from payroll processing firm ADP. That was worse than the 205,000 economists were expecting. Employers cut a revised 179,000 jobs from their payrolls in October.
Planned job cuts in November hit the highest level in seven years, according to a survey from outplacement firm Challenger, Gray & Christmas. Job cut announcements jumped to nearly 182,000 in November, up 61 percent from October and up a whopping 148 percent from a year ago.
Another report showed that the service sector weakened considerably in November, falling to 37.3 from 44.4 in October. The figure was worse than analysts' forecast for a reading of 42, and reflected a drop in new orders, prices and employment.
An additional report showed that third-quarter non-farm productivity was revised higher to an increase of 1.3 percent from an initial read of 1.1 percent. That was more than the 0.9 percent increase economists were expecting, but down from the 3.6 percent figure in the previous quarter.
Market breadth was negative. On the New York Stock Exchange, losers beat winners three to two on volume of 760 million shares. On the Nasdaq, decliners beat advancers seven to six on volume of 1.23 billion shares.
Treasury prices inched higher, with the yield on the benchmark 10-year note holding at 2.69 percent. Treasury prices and yields move in opposite directions.
The yield on the 3-month Treasury bill fell to 0.02 percent from 0.04 percent Tuesday, just above a 68-year low of zero hit last month. The 3-month is seen as the safest place to put money in the short term. A low yield means wary investors would rather preserve cash despite earning little or no interest on it than risk the stock market.
Lending rates eased. The 3-month Libor rate slipped to 2.20 percent from 2.21 percent Tuesday, while overnight Libor fell to 0.88 percent from 1 percent Tuesday, according to Bloomberg. Libor is a key bank lending rate.
The dollar gained versus the euro but fell against the yen.
U.S. light crude oil for January delivery fell 17 cents to $46.79 a barrel on the New York Mercantile Exchange, after the government reported a surprise decline in oil inventories last week.
COMEX gold for February delivery fell $12.80 to $770.50 an ounce.
E-mail to a friend