By Constance Cheng
CNN Features Producer

HONG KONG, China (CNN) -- He may have left the White House more than 8 years ago, but Bill Clinton still holds a commanding presence on the world stage.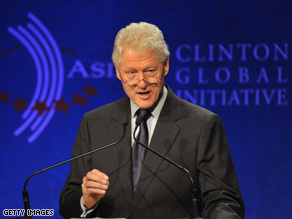 Bill Clinton's CGI in Hong Kong aimed to turn good intentions into positive committments.
What was surprising however was his remarkably nonchalant entrance at the opening of the Clinton Global Initiative Annual Meeting in Hong Kong.
Clinton arrived on stage with a distinct "let's get down to business" attitude. This meeting of politicians, private sector leaders and philanthropists, he argued, was different than all the others. This one would not simply indulge in good intentions, but make specific pledges for concrete and measurable change.
Solutions to all
The group's mission is a call to arms for change, one that would require bold governance and a willing private sector. Sadly, both those elements seem to be lacking in the current climate. Unsigned treaties and countless roadmaps have amounted to not very much on the governance front, while the financial crisis has adequately spooked corporations into "survival" mode putting corporate social responsibility on the backburner.
In our interview with Uday Nabha Khemka, Vice Chairman of the SUN group, he said that it was a critical moment to create this trinity between governance, NGOs and the private sector and work together on the climate change issue.

Watch an interview with Uday Khemka »
Climate change efforts thus far have focused on getting governments together, but as Khemka points out, the private sector has been largely neglected to the detriment of the whole effort.
"Low hanging fruit"
A nice surprise in the opening session was how much attention was paid to the often neglected and relatively unglamorous field of energy efficiency. Clinton congratulated Japanese politician, Yoriko Kawaguchi, for her country's work in that field, calling it the most energy efficient of all wealthy countries. Rightly so. Japan's efforts in improving its energy usage was born out of necessity because of the country's few sources of domestic energy.
But it's provided the country with a valuable cushion in these hard economic times. As one panelist put it, energy efficiency is the "low hanging fruit" of environmental strategies -- it's easy to achieve and will reap huge benefits.
From retrofitting corporate headquarters to evaluating production operations for energy loss, the resounding consensus on the panel is that it simply makes good business sense in the long term. So instead of corporations asking why do it, the more obvious question would be why not?
But it's not just corporations that could do something about energy efficiency. Clinton suggested that energy companies could play a vital role in greening homes, schools and hospitals.
It should be in the interest of utility companies to offer energy audits with guarantees that would refund money if those cost savings aren't achieved through their upgrades. This will give the prospective client an adequate safety net -- also easing and facilitating bank loans by cutting risk. This would require no out of pocket spending which again is key in these tough financial times.
Click here to read what came from the second day at the Clinton Global Initiative
E-mail to a friend

All About Bill Clinton • Global Climate Change