(CNN) -- The Bank of England and European Central Bank (ECB) have slashed interest rates to 2 and 2.5 percent respectively in an ongoing bid to soften the impact of recession.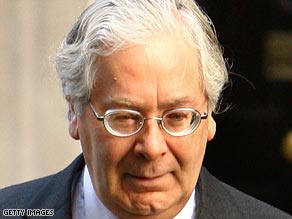 Bank of England Governor Mervyn King initially fought against interest rate cuts but now says they are necessary.
Meanwhile French President Nicolas Sarkozy added more good news Thursday, saying he was going to pump $33 billion into its economy.
Sarkozy said the plan, which would provide support for French automakers, multi-billion dollar construction projects and tax rebates, should boost growth by 0.6 percentage points in 2009.
The UK Bank said it had to cut its interest rate from 3 to 2 percent -- the lowest level since 1951 -- because business surveys had weakened further, suggesting the downturn was gathering pace.
Consumer spending and business investment had also stalled, while residential investment continued to fall.
The Bank said economic activity across the world was down.
The Bank's announcement, which followed last month's 1.5 percentage point cut, came as new figures showed UK house prices dropped at their fastest monthly rate for 16 years in November and new car sales were down 37 percent.
London's FTSE 100 was just in positive territory at the close.
Don't Miss
The ECB cut its main interest rate by 75 basis points to 2.5 percent -- the biggest move in its near 10-year history.
It helped push Paris's CAC-40 and Frankfurt's DAX slightly into the black.
Asian and Pacific markets were mixed following a late rally on Wall Street that brought the Dow Jones industrial average up over 2 percent.
Tokyo's Nikkei index was down 1.02 percent and Seoul's KOSPI index dipped 1.08 percent. Hong Kong's Hang Seng index defied the trend and was up 0.67 percent.
In Australia, the All Ordinaries index closed with a 0.09 percent slide.
On Wall Street Wednesday, investors considered a rash of weak economic reports but opted to scoop up select stocks anyway. The Standard & Poor's 500 index, at a 2.6 percent increase, and the Nasdaq composite, with a 2.9 percent gain, both outperformed the Dow.
E-mail to a friend