BEIJING, China (CNN) -- New talks between North Korea, its neighbors and the United States over Pyongyang's nuclear weapons program opened Monday in the Chinese capital, five months after the last round of negotiations, China announced.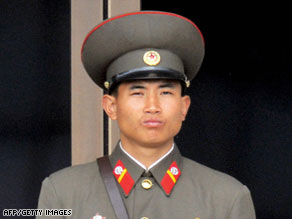 North Korea's military dominated government has been stalling over further disabling of its nuclear capability.
The last round of talks, held in July, ended with an agreement on a timetable for North Korea to resume disabling its nuclear facilities. But the reclusive communist state balked at the deal, demanding the United States first take it off its list of state sponsors of terrorism.
Washington lifted that designation in October, but plans to push for an agreement allowing the other parties to check whether Pyongyang has revealed all of its nuclear secrets, Secretary of State Condoleezza Rice said last month.
North Korea tested a nuclear weapon in 2006. In June, it acknowledged producing roughly 40 kilograms of enriched plutonium -- enough for about seven nuclear bombs.
In addition to the United States, North Korea, and China, the talks include South Korea, Russia and Japan.
E-mail to a friend