(CNN) -- Asian and Pacific stocks opened lower Friday as Washington's Detroit bailout plan floundered on Republican opposition.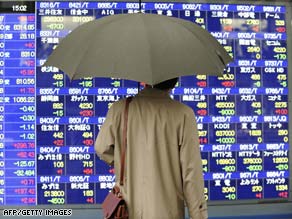 Japan's Nikkei index was down 1.27 percent in early trading.
Hong Kong's Hang Seng index fell 2.65 percent in early trading, and the Shanghai composite dropped 2.24 percent.
Japan's Nikkei index was down 1.27 percent, while Australia's All Ordinaries index slipped just under 1 percent and Seoul's KOSPI index fell .61 percent.
Stocks slumped Thursday on Wall Street, also on worries that the $14 billion auto rescue bill won't pass in the Senate.
The Dow Jones industrial average lost 196 points, or 2.2 percent. The Standard & Poor's 500 index lost 2.9 percent and the Nasdaq composite lost 3.7 percent.
After the close, Bank of America said it will cut up to 35,000 jobs over the next three years due to its purchase of Merrill Lynch and the weak economy.
Stocks rallied late Tuesday on optimism that Washington would pass an auto industry bailout bill soon. Late Wednesday, the House of Representatives passed the bill and the Senate had been expected to take up the vote Friday.
But debate on Capitol Hill Thursday showed that Republican opposition to the bill in its current state is strong enough to potentially sink the measure.
Lawmakers have been debating ways to help the automakers for over a month. The protracted process of debating, discussing and ultimately creating a bill has kept stocks from moving significantly after the recent advance, said Gary Webb, CEO at Webb Financial Group.
"The delays and the appearance of negative news is bothering the market," Webb said.
"Wall Street is impatient and wants them (Congress) to get it wrapped up soon," he added. "But like with the $700 billion bailout, which took ten days, Congress wants to get it right, not just do it fast."
Should the Senate shoot down the bill in its current form, that would spark a big selloff in the short term, Webb said. However, he doesn't think the market will get much of a boost if Congress passes a bailout because investors are already anticipating that automakers will get assistance.
Experts say the failure of any one of the Big Three could trigger massive job losses and send the United States deeper into recession.
Stocks are also struggling after surging in a short period of time. Between November 20, when stocks hit the current bear market low and Monday, the S&P 500 surged 21 percent. Since then, the stock market has been seesawing.
"We had a large rally in a pretty short period of time and so the market is taking a breather here," said Christopher Colarik, portfolio manager at Glenmede. "We're in a bottoming process, but its still going to take a while."
In the week ended December 10, investors pulled roughly $2.8 billion out of equity mutual funds, after pulling $12.1 billion out of funds in the previous week. Investors have cashed out of equity mutual funds in 17 of the last 19 weeks.
E-mail to a friend