(CNN) -- An inventor who claims he has never had time to find a human girlfriend has created his own perfect woman -- a robot.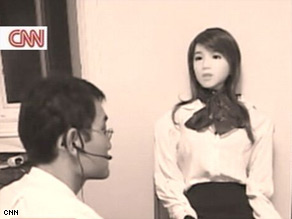 Inventor Le Trung's fembot can slap you if you squeeze her too hard.
Le Trung, 33, from Toronto in Canada, says Aiko can do the cleaning, mix his favorite drink and read him newspaper headlines.
"Like a real female she will react to being touched in certain ways," he told Britain's Sun newspaper Thursday. "If you grab or squeeze too hard she will try to slap you. She has all senses except for smell."
Aiko actually means "love child" in Japanese but the software engineer denies he has created the robot for sex.

Watch more about the futuristic female »
"Aiko is what happens when science meets beauty," he said.
However, he did add that the fembot's software could be tweaked to "simulate her having an orgasm."
Creating Aiko has cost Le Trung around $21,000, with much of the money coming from credit cards and the sale of his car.
With the support of a sponsor, Trung hopes to spend the next few years perfecting Aiko's software and increasing her range of skills -- including the ability to walk -- but not just for his own amusement.
"I suffered a heart attack and I thought that one day I might need 24-hour care," he told Britain's Telegraph newspaper.
E-mail to a friend