From Charley Keyes
CNN
WASHINGTON (CNN) -- The Bush administration signaled Thursday that it may not be able to reach an agreement with North Korea on its nuclear program before President Bush leaves office next month but said it will continue to try.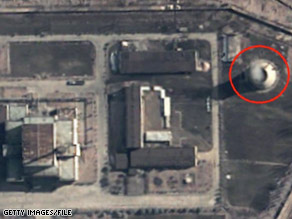 A satellite view from 2003 shows North Korea's nuclear facility at Yongbyon.
State Department spokesman Sean McCormack said the North Koreans had refused to sign an agreement on how to verify their nuclear activities.
This reported refusal follows what the United States said was verbal agreement on verification as well as earlier steps by North Korea to disable the reactor that produced plutonium for nuclear weapons.
"This process is not going to move forward beyond this point without a verification protocol being agreed upon," McCormack told reporters.
Christopher Hill, who leads the U.S. negotiating team, was in Beijing, China, this week for the so-called six-party talks involving the United States, Russia, China, Japan, North Korea and South Korea. But the meeting failed to reach an accord.
"This meeting has been adjourned," McCormack said. "It did not achieve the goal of an agreed-among-the-six verification protocol."
Asked if the negotiations were over for the Bush administration, McCormack said, "No, no. In terms of further action in the six-party mechanism, we will see what the North Koreans' response is going to be."
He added, "There will continue to be work, there will continue to be action in terms of consultation, and certainly we, as well as others, the Chinese I would expect, would urge North Korea to accept the common understanding of the other five [countries] to move this process forward."
North Korea has long considered the nuclear program integral to its national security.
Talks in July ended with an agreement on a timetable for North Korea to resume disabling its nuclear facilities.
But the reclusive communist state balked at the deal, demanding the United States first take Pyongyang off its list of state sponsors of terrorism.
Washington lifted that designation in October, but plans stalled on pushing for an agreement that would have allowed the other parties to check whether North Korea has revealed all its nuclear secrets, Secretary of State Condoleezza Rice said last month.
North Korea tested a nuclear weapon in 2006.
In June, it acknowledged producing roughly 40 kilograms of enriched plutonium, or enough for about seven nuclear bombs.
E-mail to a friend

All About North Korea • Nuclear Proliferation • George W. Bush • Condoleezza Rice