(CNN) -- U.S. Deputy Secretary of State John Negroponte called Friday for international support to help India investigate the deadly terrorist attacks in Mumbai.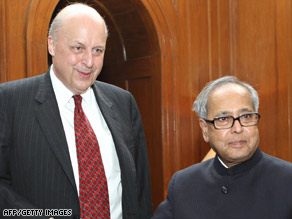 Deputy Secretary of State John Negroponte meets Friday with Indian External Affairs Minister Pranab Mukherjee.
"We're cooperating in this effort; obviously the government of India is in the lead, but all of our diplomatic partners have a responsibility to contribute to this effort," he said in a statement issued after meetings with top Indian officials in New Delhi.
The United States has sent a steady stream of officials to India in the wake of the attacks. Secretary of State Condoleezza Rice visited last week.
Negroponte, in his statement, expressed condolences to India and noted that Americans died as well.
"So we are also victims of these attacks," he said. "We think it is imperative that these attacks be thoroughly investigated and we think it is also imperative that those responsible for perpetrating these attacks be brought to account.
"So the effort at the moment is concentrated on investigating these attacks and bringing those responsible to account."
Indian Home Minister Palaniappan Chidambaram said Thursday: "I am ... able to say that the finger of suspicion unmistakably points to the territory of our neighbor, Pakistan."

Watch what India is trying to do about terrorism »
Negroponte held meetings in Pakistan on Thursday, the same day the government banned Jamaat-ud-Dawa, a charity affiliated with Lashkar-e-Tayyiba, which India blames for the Mumbai attacks, which killed 160 people.
Jamaat-ud-Dawa's leader, Hafiz Saeed, will be under house arrest at his residence in Lahore, Pakistan, for three months as Pakistani authorities investigate the attacks.
Pakistan's Interior Minister Rehman Malik told reporters in Islamabad, meanwhile, that Pakistan had yet to find any links between Pakistani militant groups and the Mumbai attacks.
The visits from high-ranking officials -- including Adm. Mike Mullen, chairman of the U.S. Joint Chiefs of Staff -- are part of the U.S. effort to limit tensions between India and Pakistan and to pressure Pakistan to cooperate fully in the investigation.
Pakistani officials have said they are cooperating and are fully committed to fighting terrorism.
E-mail to a friend

CNN State Department Producer Elise Labott contributed to this report.