By CNN's Zein Basravi
ISLAMABAD, Pakistan (CNN) -- Suspected militants attacked a truck depot in Peshawar near the border with the Khyber Agency in the country's restive tribal areas, destroying NATO supply trucks bound for Afghanistan, Peshawar police said.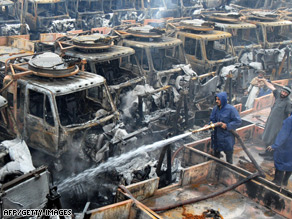 Firefighters extinguish smouldering trucks after a recent attack on a Peshawar terminal.
It was the fifth attack on NATO supply lines through Pakistan since November.
One of those attacks took place November 11, when as many as 200 Taliban fighters hijacked a convoy carrying NATO supplies from Karachi to Afghanistan via the border at Peshawar. The militants took two Humvees and paraded them in front of the media as trophies.
Meanwhile, the Taliban militant accused of masterminding that attack, Mustafa Kamal, was arrested Thursday night in Peshawar, security sources said.
Also known as Yahya Hijrat, Kamal is an Afghan from Ningrahar province and a close friend of Baitullah Mehsud, leader of Pakistan's Taliban. In September, sources said Mehsud had died, but it remains unclear whether that's true.
The latest attack took place Thursday at 6:30 p.m., police said. Multiple explosions rocked the World Logistics Terminal near Ring Road in Peshawar. Police said three or four blasts sparked a fire that destroyed at least three trucks and two cars.
The terminal holds hundreds of supply containers as well as Humvee transport vehicles bound for Afghanistan. Police said at least eight containers were destroyed Thursday night.
Also late Thursday, suspected U.S. missiles struck a village in Pakistan's tribal region near the border with Afghanistan, according to Pakistani intelligence sources and local residents.
The missiles hit a house in the village of Kazah in South Waziristan, killing six people and wounding three, the sources and residents said.
Intelligence sources said the house was rented to local militants and used as a suspected militant compound.
The U.S. military in Afghanistan routinely offers no comment on reported cross border strikes, which are normally launched from unmanned drones. The United States is the only country operating in the region known have the capability to launch missiles from drones, which are controlled remotely.
South Waziristan is located in Pakistan's ungoverned tribal region, where the Pakistani military are battling Taliban fighters.
E-mail to a friend

-- Journalist Janullah Hashimzada in Peshawar contributed to this report.
All About Pakistan • Terrorism • Afghanistan