KABUL, Afghanistan (CNN) -- Britain will help Afghanistan with upcoming elections and has offered to set up a task force to fight corruption, British Prime Minister Gordon Brown said Saturday in Afghanistan.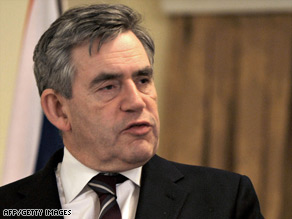 British Prime Minister Gordon Brown speaks at a news conference Saturday in Kabul, Afghanistan.
Brown, who arrived in southern Afghanistan to visit British troops, appeared at a news conference with Afghan President Hamid Karzai. The prime minister said Karzai had accepted Britain's offers.
Britain will give Afghanistan $10 million to help register voters for next year's election, he said, adding it's in everyone's interest for it to be "free and fair." A presidential election is scheduled for May, 2009.
"We will not allow the Taliban or terrorists to defy the democratic rule of the Afghan people and we will not allow the Taliban to use Afghanistan," Brown said.

Watch Brown visit British troops »
"And so our troops are a front line against the Taliban. There is a chain of terror that comes from the Pakistani and Afghan mountains right across Europe, and could end up very easily on the streets of Britain," he said.
The Taliban and its supporters have been attempting a resurgence in the country they ruled until U.S.-led forces routed them after the September 11, 2001, al Qaeda attacks on New York and Washington. Al Qaeda had set up training camps in Afghanistan.
Brown said he came to Afghanistan to evaluate the British troops and determine how effective the military strategies have been. Brown said he also wanted to "show solidarity with the Afghan people."
Brown said he will give a report to the House of Commons on Monday, which will include an assessment of the British troop strength.
He stressed the importance of "burden-sharing," saying more countries should participate in fighting and rebuilding Afghanistan.
"Other countries must play their part," he said.
The United States, which has about 31,000 troops in Afghanistan, has provided the largest contingent, followed by Britain.
Brown said there are 70,000 Afghan forces, and this should increase by 20,000 a year so the country eventually can protect itself.
The prime minister said he was encouraged by progress in the city of Musa Qala in Helmand province, after Taliban fighters were ousted a year ago. Brown pointed to a new school, health facilities and police services.
Also, the wheat harvest is strong this year in Helmand, once a Taliban stronghold, he said.
Karzai said reconstruction should be targeted to places where troops are deployed.
The president said no meetings are scheduled between Taliban and Afghan representatives.
E-mail to a friend

All About Afghanistan War • Gordon Brown • United Kingdom • The Taliban