(CNN) -- U.S. President George W. Bush arrived in Afghanistan early Monday for an unannounced visit, during which he will meet with Afghan President Hamid Karzai and speak with U.S. troops.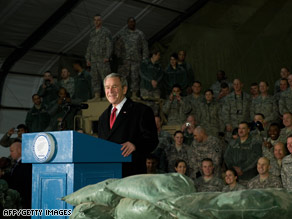 U.S. President George W. Bush speaks to U.S. troops at Bagram Air Base in Afghanistan on Monday.
Bush landed at Bagram Air Base at about 5:30 a.m. (8 p.m. ET Sunday).
The United States, with 31,000 troops, has the largest contingent of any country in Afghanistan, but the number is less than a quarter of the U.S. strength in Iraq.
His stop in Afghanistan came within hours of an unannounced farewell visit Sunday in Iraq, where he met with leaders in Baghdad, talked to reporters and was targeted by a shoe-thrower, who missed his mark.
The incident with the shoe-thrower -- identified as an Iraqi journalist sitting among other reporters -- occurred early in the evening in Prime Minister Nuri al-Maliki's palace inside the heavily fortified Green Zone.
In Arab culture, the throwing of one's shoes at another is considered a strong sign of contempt.
The journalist, identified as Muntadhar al-Zaidi of the al-Baghdadia television network, was dragged away by security personnel. The network issued a statement Sunday demanding his release.
Don't Miss
Bush was addressing members of the news media, and the two leaders were preparing to sign the security pact, known as the Strategic Framework Agreement and the Status of Forces Agreement.
Bush's visit to Afghanistan comes after British Prime Minister Gordon Brown's own unannounced stop during the weekend, during which he met with Karzai.
Brown said on Saturday that Britain would help Afghanistan with upcoming elections in May and set up a task force to fight corruption -- offers Brown said that Karzai had accepted.
Brown said he had come to Afghanistan to evaluate the British troops and determine how effective the military strategies have been. He also said he wanted to "show solidarity with the Afghan people."
His visit coincided with the deaths of four British marines and three Canadian soldiers in Kandahar and Helmand provinces. Brown said that the Taliban used a 13-year-old boy to carry out the Helmand attack, a claim denied by the Taliban.

Watch Brown condemn the attack »
U.S. Defense Secretary Robert Gates also was in the region in recent days, stopping in Iraq and Afghanistan, where he met with Gen. David McKiernan, the commander of U.S. and NATO forces.
Gates said that the U.S. military plans to move three more combat brigades to Afghanistan by summer.
E-mail to a friend

All About George W. Bush • Afghanistan • The Taliban • Hamid Karzai