(CNN) -- Tokyo stocks opened only slightly lower Friday after a down day on Wall Street, buoyed by the possibility of an interest rate cut by the Bank of Japan.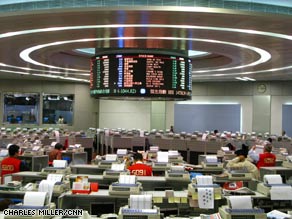 Asia stocks opened mixed, but with little movement.
The Japanese government said Friday it expected a shrunken economy when the fiscal year ends in March. But investors on the Nikkei index, concerned with the growing recession, held out hope for the interest rate drop and held the index to a .16 percent fall.
Elsewhere, stocks were mixed, but with little movement. Australia's All Ordinaries index fell .41 percent and the Shanghai composite index was down .39 percent. But Seoul's KOSPI index was up .56 percent and Hong Kong's Hang Seng index rose .24 percent.
On Wall Street Thursday, a selloff accelerated in the last hour of a volatile session as traders squared up positions for a handful of options expiring Friday, known as "quadruple witching."
The Dow Jones industrial average ended down 219 points, or 2.5 percent. The broader Standard & Poor's 500 index fell 19 points, or 2.1 percent, and the Nasdaq composite shed 27 points, or 1.7 percent. All three indexes seesawed in early trading.
The market is typically more volatile ahead of "quadruple witching," when equity options, stock index futures, stock options and single-stock futures all expire on the same day. There are four such Fridays in the year, and they tend to be preceded by increased market volatility.
"Most of the action around that occurs the day before," said Fred Dickson, chief market strategist at D.A. Davidson & Co. "What we are seeing at the end of the day is an option and futures selloff related to tomorrow's expiration."
Investors also focused on the recession, which has delivered a slew of sour economic reports and has chipped away at global demand for oil.
A torrent of bad news that had been ignored in the previous session came back to haunt the markets in the afternoon session. "We have had a market that has really, up until yesterday, been pretty resilient in the face of negative news," said Art Hogan, chief market analyst at Jefferies & Co. "The market has been ignoring a lot of bad news and it is not ignoring it today."
With the holiday week approaching, trading has also slowed. "Volume is fairly low," said James Shelton, chief investment officer at Kanaly Trust Company. "The markets are getting ready for the holidays."
Market breadth was negative. On the New York Stock Exchange decliners beat out advancers 3 to 2 on a volume of 1.4 billion shares. Meanwhile on the Nasdaq, decliners beat out advancers nearly 2 to 1 with a total market volume of 2 billion.
The dollar gained against other major currencies, with the yen just off the 13-year high it reached against the dollar Wednesday. Meanwhile, the 15-nation euro and the British pound both lost against the greenback.
Treasury prices, meanwhile, continued to rally, sending yields to record lows. The benchmark 10-year note rose 1-4/32 to 114-30/32 and its yield fell to an all-time low of 2.07 percent, down from 2.18 percent late Wednesday.
E-mail to a friend