By Mukhtar Ahmad for CNN
SRINAGAR, Indian-controlled Kashmir (CNN) -- Separatist militants ambushed an Indian paramilitary patrol in Indian-administered Kashmir Monday afternoon, killing two Central Reserve Police Force (CRPF) troopers, police said.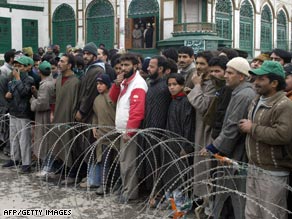 Tensions and protests have marred state elections in Indian-administered Kashmir.
The attack happened in the apple-rich Sopore, a town in north Kashmir about 54 kilometers (34 miles) Srinagar, police said.
"The militants fired at the CRPF patrol party from their automatic weapons at close range critically injuring two troopers," a senior police official said. The two officers died later at a hospital, he said.
Sopore's busy apple trade was shut down as tension gripped the city after the ambush.
"Searches have been started in the town to locate the assailants," the officer said.
No armed group has so far claimed responsibility for the attack.
Monday's shootout comes ahead of the crucial last phase of voting in state elections in Indian-administered Kashmir. Eight constituencies vote Wednesday in the capital city Srinagar which has a population of 1.2 million.
The city has seen violent anti-poll protests and clashes between the Indian security forces and protesters in the last two days. A curfew was imposed in parts of the old city Monday.
The separatists have again called for a total boycott of the polls on Wednesday and have asked people to march to Lal Chowk, the main square in Srinagar for a sit-in on that day.
India blamed neighboring Pakistan for harboring separatist militants who carry out strikes against the Indian security forces in Kashmir.
After the recent terror attacks in India's financial capital, Mumbai, the Indian government has increased diplomatic pressure on Pakistan to "dismantle the terror infrastructure on its land or face the consequences."
Indian authorities said the gunmen who carried out last month's attack on Mumbai, killing 160 people, were trained at a terrorist camp in the Pakistani-controlled part of Kashmir.
Secessionist campaign officials claim 43,000 persons have been killed over the past 18 years, although human rights groups put the death toll at twice that number.
E-mail to a friend

All About India • Pakistan • Jammu and Kashmir