ISLAMABAD, Pakistan (CNN) -- Suspected U.S. missiles hit targets in Pakistani tribal areas near the border with Afghanistan on Monday, killing at least seven people, Pakistani intelligence sources and local officials said.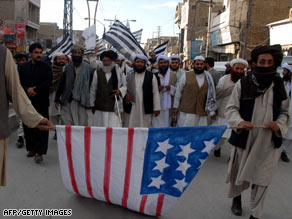 Pakistani Islamists in Quetta on November 27 protest a U.S. missile strike in Pakistan's tribal areas.
Three missiles reportedly targeted vehicles mounted with anti-aircraft guns, according to the sources. One missile missed its intended target and landed near a house.
The dead were suspected Taliban militants, a local intelligence official said.
Another local official said nine other militants were wounded in the attack.
The missile strikes took place Monday morning about nine miles (15 km) from the town of Wana in South Waziristan.
The U.S. military in Afghanistan routinely offers no comment on reported cross-border strikes, which are normally launched from unmanned drones.
But the United States is the only country operating in the region known have the capability to launch missiles from drones, which are controlled remotely.
South Waziristan is located in Pakistan's ungoverned tribal region, where the Pakistani military are battling Taliban fighters.
E-mail to a friend

CNN's Zein Basravi contributed to this story.
All About Pakistan • United States • Afghanistan • The Taliban