From Mukhtar Ahmad CNN
SRINAGAR, Kashmir (CNN) -- The heavily guarded, seventh and final phase of voting for a state assembly ended Wednesday in Srinagar, the summer capital of Indian-administered Kashmir. Results are expected Sunday.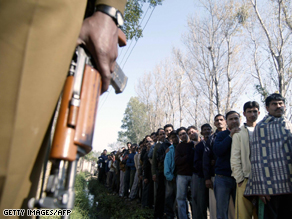 Voters line up in Jammu amid tight security.
Kashmir, divided between India and Pakistan and claimed by both, has been wracked by an 18-year, bloody separatist campaign that authorities say has left at least 43,000 dead.
The regional elections began in November after months of violent protests by anti-Indian groups, fearful state elections will firm up Indian control of the Muslim majority Himalayan state, and by Indian nationalists, fearful that separatist groups will gain control.
Anti-election protests erupted Wednesday at more than a dozen places in Srinagar as angry youths shouted pro-independence slogans and pelted paramilitary troops with rocks and bricks. Security forces responded with tear gas and batons.
Separatists had called for an election boycott and march to the historic city center, Lal Chowk, for a sit-in, but troops sealed off the main thoroughfares with coils of razor wire and pre-fabricated barricades.
Kashmir was placed under curfew-like restrictions Tuesday to help prevent protest marches.
Officials said voter turnout in the tense city was low. Srinagar has been the vanguard of the anti-voting campaign ever since the elections were announced by the Indian government in October.
Streets were mostly empty of citizens Wednesday morning, as thousands of Indian paramilitary units and police were spread among the eight constituencies eligible to cast ballots. More voters ventured out in the afternoon.
Don't Miss
"I am voting for good governance and basic civic amenities lacking in this city," said Nazir Ahmed while leaving a polling station at Khanyar, in Srinagar's Old City.
In contrast, Ghulam Mohi-ud-Din told CNN, "We are not voting. Elections are no solution to this lingering Kashmir problem, which can only be resolved through negotiations."
Voting was more brisk in Indian-controlled, Hindu-majority Jammu, Kashmir's winter capital.
Referring to the tensions between India and Pakistan, Indian Prime Minister Manmohan Singh said Tuesday the issue is "dismantling of the terror machine by Pakistan and not war."
One of the most active militant groups in Kashmir has been Pakistan-based Lashkar-e-Tayyaba (LeT).
India blames LeT for last month's brutal massacre of more than 160 people in Mumbai, India, and has demanded that Pakistan hand over leaders of the group. LeT has denied responsibility.
Also Tuesday, Indian police said they arrested three Pakistani militants, one of whom they said is in the Pakistani army. Pakistan denied he is an active-duty soldier.
The three were arrested during a raid on a hotel in Jammu, where police claimed they were on a "Mumbai-style shooting and bombing mission."
Kashmir has been a point of contention between the two countries since the division of the subcontinent in 1947. The neighbors have fought two wars over the territory and narrowly avoided a third war in 1999.
Human rights groups and NGOs contest the official claim of at least 43,000 dead in the separatist campaign, putting the number of dead at twice the official figure.
E-mail to a friend

All About Jammu and Kashmir • India • Pakistan