TOKYO, Japan (CNN) -- Japan is considering joining an international effort to protect ships from a growing threat of piracy in the Gulf of Aden near Somalia, a top official told reporters.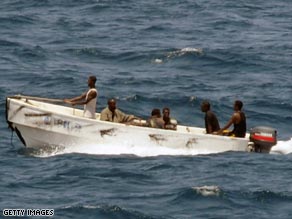 More than 260 crew face Christmas with pirates like these, seen off the Somalian coast.
Japan's response is the latest reaction to attacks and hijackings in the all-important gulf -- which links the Indian Ocean and the Red Sea. Around 20,000 oil tankers, freighters and merchant vessels pass along the crucial shipping route each year.
"Already, the United States and EU nations dispatch vessels to coast of Somalia, and China is also planning to do so," Chief Cabinet Takeo Kawamura said Wednesday. "We should consider the dispatch as soon as possible."
At least 14 vessels, holding more than 260 people, remain held by pirates in the waters off Africa. Figures from the International Maritime Bureau for the year-to-date show the worst affected area has been off the coast of Somalia, where pirates have attacked almost 100 vessels and hijacked nearly 40.
Chinese navy officials said Tuesday that two Chinese destroyers and a supply ship will set sail for the Gulf of Aden on Friday to protect Chinese merchant ships. Also aboard the naval ships are two helicopters and special operations forces, the officials said.
It will mark the first time Chinese naval vessels have left Chinese waters in centuries.
The Chinese ships will join a multi-national naval force patrolling the area, including vessels from the United States, NATO member states, Russia, Iran and India.
The U.N. Security Council passed a resolution last week aimed at combating piracy along the Horn of Africa by allowing military forces to chase pirates onto land in cases of "hot pursuit."
The Security Council resolution, which passed unanimously, expands upon existing counter-piracy tools, including a stipulation that would allow for national and regional military forces to chase pirates onto land -- specifically into Somalia, where many of the pirates have their bases.
The crew members still being held hostages by pirates come from a number of countries, including a large section of Filipinos, with media in the Philippines reporting that 91 Filipinos are still being held in their ships.
At least one major company pulled its ships from the Gulf of Aden region this year, meaning cargo bound for Europe had to round the African continent rather than use the Suez Canal.
Among the victims of pirate attacks have been cargo ships, oil tankers and luxury yachts.
E-mail to a friend

All About Pirates • Somalia • Gulf of Aden