UNITED NATIONS (CNN) -- The United Nations is working to establish a commission to investigate the assassination of former Pakistani Prime Minister Benazir Bhutto, whose death came one year ago Sunday.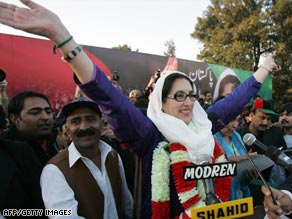 Benazir Bhutto greets supporters at the rally where she was later killed on December 27, 2007.
"The secretary-general is hopeful that, with the progression of the discussions, the commission could be established in the near future," said a statement issued by the office of Secretary-General Ban Ki-moon.
The U.N. Secretariat has been talking to members of the Security Council and Pakistan over the structure of such a panel, according to the statement.
Pakistani President Asif Ali Zardari is Bhutto's widower and took office this year. At the time of her assassination on December 27, 2007, it was Bhutto who was running for prime minister. She was killed at a campaign rally in Rawalpindi ahead of parliamentary elections.
"On this painful anniversary, the secretary-general stands in solidarity with the government and the people of Pakistan and assures them of his commitment to contribute to their search for truth and justice," the statement said.
The U.N. statement did not make reference to the heightening tension between India and Pakistan in the aftermath of last month's attack that killed 160 people in the Indian city of Mumbai.
Troops had been redeployed from the western border with Afghanistan to the Indian border amid fears of an Indian ground incursion, according to military sources in Pakistan.
Don't Miss
India believes the 10 men who carried out the attacks were trained at a terrorist camp in the Pakistani-controlled part of Kashmir.
Indian defense spokesman Sitanshu Kar said Friday that India wasn't carrying out a troop buildup along its western border and said he was "not aware" of military reports about Pakistani troop mobilization there.
E-mail to a friend

All About Pakistan • Benazir Bhutto