KABUL, Afghanistan (CNN) -- Bombings at a governor's compound and a bazaar in Afghanistan on Monday killed four civilians and wounded a few dozen others, the NATO command in the country said.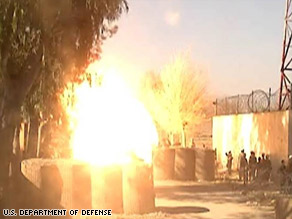 The U.S. military released this photo of Sunday's car bomb blast near a voter registration site.
A car bomb targeting the compound of the Parvan provincial governor in eastern Afghanistan killed two civilians and wounded 16 others.
Two improvised explosive devices detonated at a bazaar in the southern province of Kandahar, killing two civilians, including a child. Twenty civilians and an Afghan border police officer were wounded in the incident, which occurred in the town of Spin Boldak.
The violence is the latest said to be spawned by the resurgent Taliban movement that once ruled Afghanistan.
The Taliban regime harbored the al Qaeda terror network before it was ousted from power by the U.S.-led invasion of Afghanistan after the Sept. 11, 2001, attacks on the World Trade Center and the Pentagon.
Monday's violence follows a suicide car bomb blast on Sunday near a voter registration site killed 16 people, 14 of them children, and wounded 58 in southeastern Afghanistan.
In remarks about this latest string of violence, U.S. Gen. David McKiernan, commander of NATO's International Security Assistance Force, called the latest bombings "further unnecessary killing and suffering of innocent civilians. The Taliban offer nothing but terror, fear and suffering for the Afghan people."
E-mail to a friend

All About Afghanistan • The Taliban