By Christiane Amanpour
CNN Chief International Correspondent
SARAJEVO, Bosnia-Herzegovina (CNN) -- Markale market is awash in the lush oranges, reds, greens and yellows of fresh fruit and vegetables. But 16 years ago, when the Bosnian war broke out, produce disappeared from the stalls of Sarajevo, and some days the only color was blood red.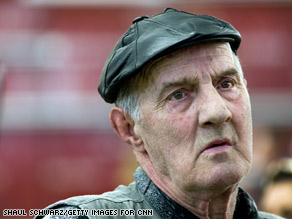 Siege survivor Esad Pozder still struggles to provide for his family in post-war Sarajevo.
Esad Pozder, 67, remembers one of those days when a heavy mortar fired by separatist Bosnian Serbs landed in a corner of the city center market, killing 68 people, including his sister, and wounding 200 more.
"There was blood all over the place, flowing down the aisles, people without heads or hands or arms or limbs. That's how it was," the market trader said. What happened February 5, 1994, two years into the war, was then the single deadliest attack on Sarajevo by Serbs trying to carve out their own ethnically pure state.
Pozder, nicknamed Dedo or Grandpa by fellow stallholders, said he survived by sheer luck. As the shell hit, he was bending to retrieve a precious cabbage he had stored under his stall for a friend. When he straightened up, the slaughter had happened all around him, with his friend Numo among the dead.
It took 21 more months for the war to end, but today, Pozder is no longer afraid. "I am a free man," he said. "I still struggle to provide for my family, but it is a lot better now."

See and hear how Sarajevo has changed »
The architect of Bosnia's peace, former U.S. Assistant Secretary of State Richard Holbrooke, agrees. "The war is over, the country is at peace, and the war will not resume," he said in Sarajevo this month.
The United States appointed Holbrooke in 1995 to negotiate an end to the war. Earlier that year, Bosnian Serb forces commanded by Gen. Ratko Mladic had overrun the small Bosnian town of Srebrenica, supposedly a United Nations safe haven. More than 8,000 Muslim men and boys were slaughtered in an act of genocide that was Europe's worst massacre since World War II.
After the Sarajevo market was shelled yet again, the United States led NATO in bombing Serb heavy artillery positions, and within weeks, peace negotiations to finally end the war started in Dayton, Ohio.
Holbrooke said he believes that the Dayton Peace Accords would be cemented by Bosnia joining the European Union, if Muslims and Serbs can overcome issues that still plague them.

Watch Holbrooke judge whether Sarajevo is a success story »
For instance, today, separate Bosnian, Serb and Croat school systems teach their own version of history to the post-war generation. Holbrooke said this is "the single greatest long-term threat to the country."
Haris Silajdzic, prime minister during the war and now Bosnian president, says significant war issues still need to be resolved before the area can be truly at peace.
"Almost half of Bosnia is named now after those who did it," he said referring to Republika Srpska, which along with the Federation of Bosnia and Herzegovina, makes up the nation of Bosnia-Herzegovina.
As one of Bosnia's vital voices of conscience during the war, today he questions why Bosnian Muslims should accept the name of the Republika Srpska police force, the same name it had when it allegedly committed some of the war's worst atrocities.
Don't Miss
"That's like asking the victims of Auschwitz to recognize the name of Gestapo and go on, for the pragmatism of it. But there is a limit to pragmatism," Silajdzic said at the Presidency building in Sarajevo, where Muslims, Christians and Jews had lived together harmoniously for centuries before the war.

Watch Silajdzic say what message should be sent to the world »
Despite the concerns, Bosnia's parliament passed legislation this month to reform the ethnically divided police forces, though the separate names will stay the same. The new law puts Bosnia-Herzegovina back on the path to EU membership, which both Holbrooke and Silajdzic see as crucial to the country's future.
Silajdzic said Bosnia's moderate Muslims -- who were targeted in sieges, attacks and massacres during the war and comprised the majority of the victims -- can play a vital role in mitigating today's global culture clash. "If you walk the streets of Sarajevo," he said, "You will see that people ... still want to live together, despite everything."
But Holbrooke worries that if Silajdzic insists on focusing on fixing the past and changing the peace pacts, it could spur Republika Srpska to declare unilateral independence. "The danger is that this can lead, in turn, to the country ultimately splitting up again, although that is forbidden under the Dayton agreements," he said.
But on the issue of justice, Holbrooke and many Bosnians agree: Two of the principal architects of the Bosnian war must be brought to the War Crimes Tribunal at The Hague. Both Bosnian Serb wartime leaders Ratko Mladic and Radovan Karadzic, indicted on charges of genocide and crimes against humanity, are still at large 12 years after the war.
This frustrates Esad Pozder, who recalls all that he, his city and his country suffered at their hands. "To be frank, it makes me really angry that they are on the run," Pozder said.
"When they could catch a president [Saddam Hussein] in a mouse hole in Iraq, they could catch these two guys in Bosnia-Herzegovina or in Serbia if they really wanted."
E-mail to a friend

All About Genocide • Bosnia and Herzegovina • The Holocaust