LONDON, England (CNN) -- Britain's Prince Andrew served 22 years in the Royal Navy, so he says it now makes him proud to see his two nephews, Princes William and Harry, have roles in the armed services, too.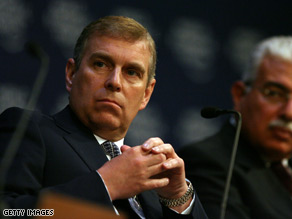 Prince Andrew, pictured at the World Economic Forum on the Middle East in Egypt, last month.
Andrew, 48, spoke to CNN this week about his family and his own life, which included a stint as a helicopter pilot during the 1982 Falklands War between Britain and Argentina. Being one of the younger sons of Queen Elizabeth II, Andrew said, his choices in life were always clear.
"The old saying was that second sons either joined the church or joined the armed service, and I decided at the time that I always wanted to be a pilot," he said. "I always wanted to be a helicopter pilot ... so that was the obvious choice for me."
Andrew is the younger brother to Prince Charles, whose sons, William and Harry, are now second and third in line to the British throne, respectively. Andrew himself is fourth in line.
Both young princes serve in the British Army, and William is currently training with other branches of the military to gain experience in his role as the future king.
"Harry, I know, thoroughly enjoys his time with the army," Andrew said. "I think he was extremely proud to be able to go and serve his country in active war conditions in Afghanistan."
Harry's two-month deployment to Afghanistan was kept secret under an agreement between the palace and media organizations to respect his safety in exchange for full access after Harry returned home. A U.S. Web site revealed his location in late March, prompting Harry's quick evacuation from the war zone.
"I think it was entirely honorable and right and proper that the media were so good and kept quiet," Andrew said. "It was a shame that one irresponsible Web site let it out because, I think, it would have done a lot more good had he been able to serve his time out there."

Watch Prince Andrew talk about military service »
Andrew said he "absolutely" commends William for signing up for brief attachments with other branches of the military. The 25-year-old prince began a two-month attachment with the Royal Navy this week.
Prince Andrew married Sarah Ferguson in front of a TV audience of 500 million in 1986. The couple -- officially the Duke and Duchess of York -- have two daughters, Beatrice and Eugenie.
Don't Miss
The marriage failed but their friendship grew, and the family remains close.
"I was with Sarah in the United States about two years ago, and coming out of one building about half a dozen people said, 'Ooh, ooh, can we have your autograph?' and pushed past me," Andrew recalled.
"I was quite happy with letting her get on with it. She's been very successful in the United States and has worked, I think, extremely well and is hugely knowledgeable about the problem of obesity -- particularly childhood obesity, which she's now trying to take onto the global stage."
Eighteen-year-old Eugenie recently featured on the front cover of Tatler, telling the magazine that Andrew is "the best dad." Andrew laughed when asked how he does it.
"Don't ask! I have no idea," he said, though he said he does believe in giving unconditional love and constructive advice.
"Sarah and I work on the principle of joint parenting and we make sure that they have one or the other of us most of the time, and both of us quite often," he said.
Since 2001, Andrew has been the United Kingdom's special representative for international trade and investment, traveling the world selling the British brand. Last year, he visited more than 20 countries in the role, trying to attract investors to Britain and helping British companies improve their prospects overseas.
"If we can open doors and give the U.K. an advantage over our competitors, then I think that's absolutely right and proper," he said.
Andrew isn't in the spotlight as often anymore, outshone by his older brother and prominent nephews, but he's endured enough glare over the years to offer some advice to the younger generation about talking to the press.
"Don't talk to them," he said simply. "There's a simple rule: If you haven't got anything to say, don't bother to say it."
E-mail to a friend

CNN's Becky Anderson contributed to this report
All About Prince Andrew • Prince Charles • Prince Harry of Wales • Prince William of Wales • Queen Elizabeth II