LONDON, England (CNN) -- Britain's home secretary said Wednesday she was "extremely disappointed" at a court's decision to release on bail a radical Muslim cleric known as Osama bin Laden's spiritual ambassador to Europe.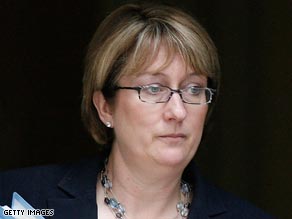 UK Home Secretary Jacqui Smith will appeal to the House of Lords to review the court's decision.
A three-judge appeals panel released Jordanian national Abu Qatada on Tuesday on strict bail conditions, including a 22-hour curfew. The judges said there was no reason to continue holding him but that he presented a "continuing and significant" threat.
"The government's priority is to protect public safety and national security and we will take all steps necessary to do so," Home Secretary Jacqui Smith said in a statement.
"I am extremely disappointed that the courts have granted Abu Qatada bail, albeit with very strict conditions. I am appealing to the House of Lords to reverse the decision that it is not safe to deport Qatada ..."
Qatada, also called Omar Othman, had been in custody since August 2005 for immigration offenses. The government wants to deport him to Jordan, where he was convicted in absentia of terrorist offenses. Qatada has appealed, saying he would face torture or ill treatment if he were sent back.
In granting him bail, the judges said they agree with the British government that Qatada continues to pose a public risk, but that there was no reason to continue holding him in prison.
Among the strict conditions of Qatada's bail order:
He must be fitted with an electronic monitoring tag and remain at home 22 hours of each day, except for one hour in the morning and one in the afternoon.

Only his wife, children, legal representative, emergency services personnel, and children younger than 10 may visit him without permission.

He may not associate with 22 individuals named in the bail order, including Osama bin Laden, Ayman al-Zawahiri, and jailed British cleric Abu Hamza.

He may not use a cell phone, computer, fax machine, or any electronic storage device, such as a USB drive.

He may have only one bank account and must provide authorities with monthly statements.

He may not send any money or goods outside the United Kingdom.

He may not attend any mosque, and may not preach, lead prayers, or give religious instruction to anyone but his wife and children.

He may not publish any document or statement without prior approval.
Qatada arrived in Britain in 1993 on a forged United Arab Emirates passport, according to court documents, and claimed asylum for himself, his wife, and their three children.
Don't Miss
The government recognized him as a refugee and gave him the right to remain in the country until 1998.
Qatada applied to stay indefinitely, but while that application was pending, a Jordanian court convicted him in absentia for involvement in two 1998 terrorist attacks and a plot to plant bombs to coincide with the millennium.
By 2002, the British government said it suspected Qatada was a terrorist and that he was a national security risk. It said he had raised money for terrorist groups, including groups connected to bin Laden; that he publicly supported the violent activities of those groups; and that arrested terrorist suspects had acknowledged Qatada's influence.
The government refused to allow Qatada to stay in Britain; it ordered him deported and detained him. Qatada's latest appeal against deportation, in April, resulted in the judges' decision to order him released on bail.
British ministers have described Qatada as an "inspiration" for terrorists such as Mohammed Atta, the lead hijacker behind the September 11, 2001 attacks in the United States. Qatada has denied the accusations.
E-mail to a friend

All About Osama bin Laden • Abu Qatada