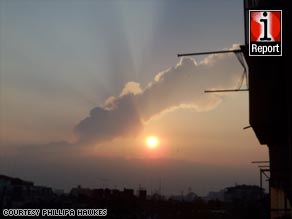 Philippa Hawkes saw smoke from the explosion from her window Thursday. On a bike ride afterward she noted "the air was certainly not fresh."
SOFIA, Bulgaria (CNN) -- Explosions rocked a Bulgarian army ammunition storage facility outside of the capital of Sofia early Thursday, a government official said.
There were no reports of casualties, and the incident was under investigation, according to Nikola Kolev, a presidential spokesman. It's not clear what caused the explosion.
"Large quantities of conventional ammunition are stored in the facility, but there are no toxic chemicals or radioactive substances stored there," he told The Associated Press.
Defense Minister Nikolai Tsonev added there was no immediate danger of new explosions because most of the ammunition appeared to have been blown up. Four soldiers on duty at the depots escaped unscathed, the ministry said.
The facility is located about 6 miles (10 km) outside of Sofia, in the village of Chelopechene. Explosions were expected to continue for hours as the stockpile burns.
E-mail to a friend

Journalist Venelin Petkov contributed to this story.